In the time of your life when you have the world at your fingertips and a limitless spectrum of opportunities, traveling is essential. Though it can be daunting (and a little more expensive) to travel outside of the country, it's worth every penny to discover a different world outside of the one you know.
But you did it! You worked up the courage and saved and you finally have all the money you need for a trip out of the USA. For first time travelers, or even returning world conquerors, safety and security abroad is something of utmost importance. Though it is important to ensure your physical safety-travel in groups, be aware of your surroundings-it is equally important to secure your money.
According to Forbes, Young travelers accounted for about 20 percent of the international tourism in 2012 [1].
Forbes also stated "student spending has increased by 40 percent since 2007" and "hostels have taken over hotels as the most popular form of accommodation".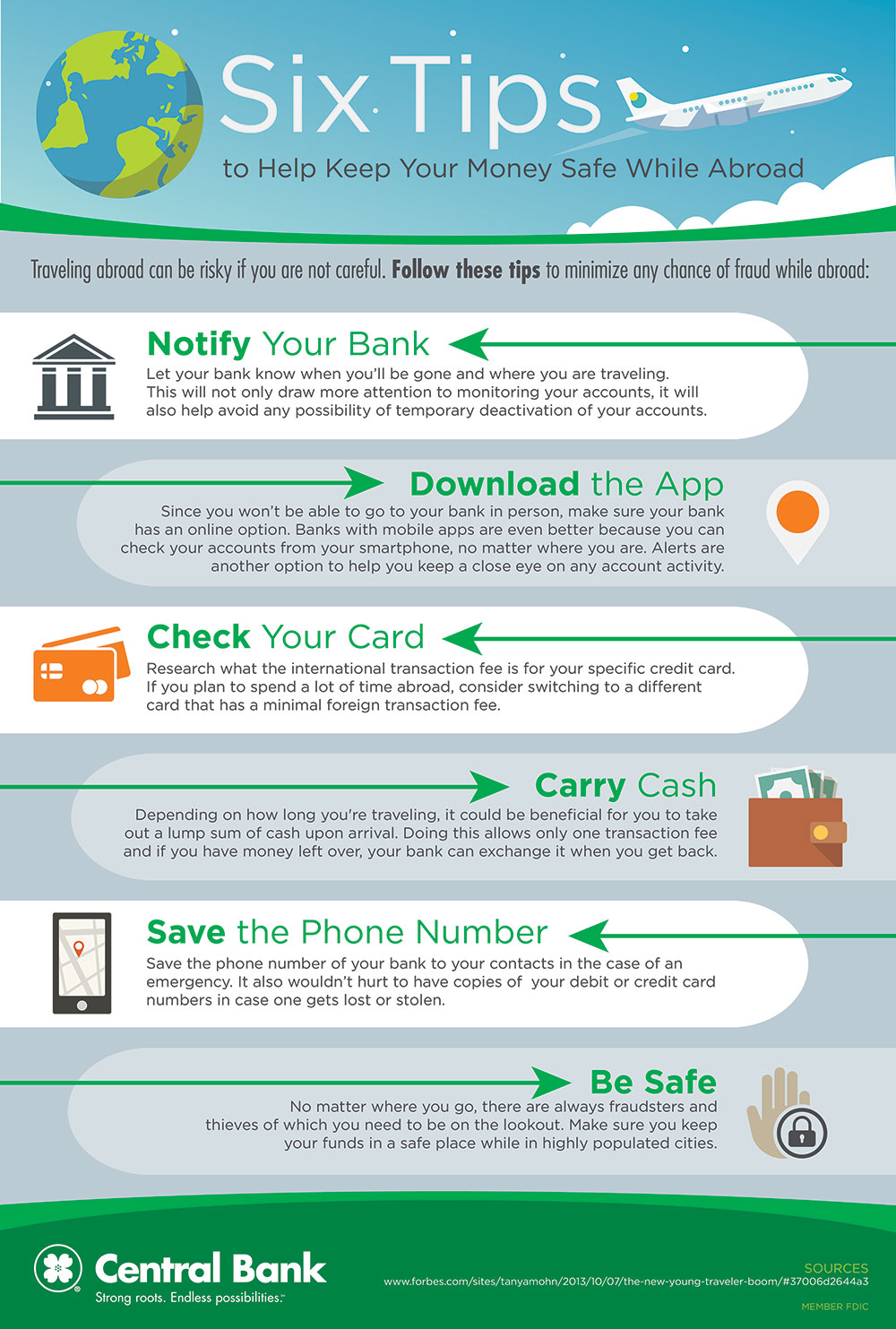 Traveling abroad can be risky if you are not careful. Follow these tips to minimize any chance of fraud while abroad:
Notify Your Bank
Let your bank know when you'll be gone and where you are traveling. This will not only draw more attention to monitoring your accounts, it will also help avoid any possibility of temporary deactivation of your accounts.

Download the App
Since you won't be able to go to your bank in person, make sure your bank has an online option. Banks with mobile apps are even better because you can check on your account from your device, not matter where you are. Alerts are another option to help you keep a close eye on any account activity.

Check Your Card
Research what the international transaction fee is for your specific credit card. If you plan to spend a lot of time abroad, maybe consider switching to a different card that has minimal to no foreign fees.

Lots of Cash
Depending on how long you're traveling, it could be beneficial for you to take out a lump sum of cash upon arrival. Doing this allows only one transaction fee and if you have money left over, your bank can exchange it when you get back.

Have the Number
Write down the phone number of your bank in case of emergency. It also wouldn't hurt to have copies of your debit or credit card numbers in case something gets stolen or lost.

Be Safe
No matter where you go, there are always fraudsters and thieves of which you need to be on the lookout. Make sure you keep your funds in a safe place while in highly populated cities.
Source:
[1] The New Young Traveler Boom, Forbes