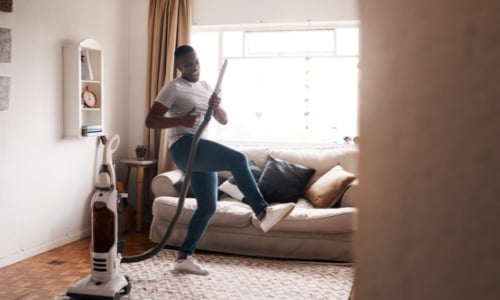 Yes, the thought of cleaning your house may seem very overwhelming. As long as you have a game plan from the start, you'll not only save your sanity, but your pennies too.
How to get started
Your Checklist - The best way to start spring cleaning is with a checklist. Your list should be organized room by room, making sure you focus on one room or area of your home at time.
The Supplies - Before you get started, it's best to make sure you have your supplies on hand. Buy your supplies in bulk or at a local discount store. This will keep you from making that last minute stop on your way home to pick up the multi-surface cleaner for a higher price at the grocery store.
Your Mindset - The best way to quickly and strategically spring clean is to make sure you are in the correct mindset. You're not only cleaning your house to remove the dirt and grit, but cleaning your house of clutter. If you're organized at home, you'll be more likely to be organized at work and in your day-to-day. Be willing to let go of objects that don't really have a purpose and are only collecting dust.
The In-Betweens
As you are moving from room to room, keep these areas in mind.
Dust your blinds and ceiling fans
Wipe down walls and ceilings to get rid of fingerprints and scuffs
Shampoo carpets and rugs
Wipe down and shine windows
Vacuum out the heating and cooling vents
Dust and wipe down the window frames


The Kitchen
Clean the grout and wipe down any backsplash or tile flooring
Vacuum behind the refrigerator or other large appliances and make sure coils are free of dust
Throw out any expired food and clean the shelves and drawers of the refrigerator
Thaw out your freezer
Clean the oven of any burnt buildup


The Family Room
Wash pillow coverings or blankets
Clean out the fireplace flue
Move furniture and vacuum under larger pieces such as the couches and entertainment centers


The Bedroom
Air out and refresh the mattress
Replace heavy sheets and comforters with lighter options for the warmer months to come
Go through your closet and drawers (host a garage sale or donate to a local charity or resale store)
Replace cool-weather clothing with warm-weather clothing



The Bathroom
Organize drawers and closets
Throw out expired cosmetics, beauty products, and medicine
Update your first aid kit



Outdoor Spaces
Clean out landscaping and gutters
Wash outdoor furniture
Organize the garage or any utility shed
Inspect outdoor lighting and replace any burnt out bulbs



Safety Precautions
Once you're finished with your spring cleaning, this is also a great time to take any safety precautions. Change your batteries in your fire alarms and carbon monoxide detectors (this should be done twice a year) and make sure all are free of dust. It's also a good idea to change your furnace filter at this time.
Pest Inspections
With spring often comes unwanted visitors. Prevent finding insects and spiders by spraying your home both inside and outside. You can do this yourself by using the right equipment or by hiring a pest control service to get the job done.