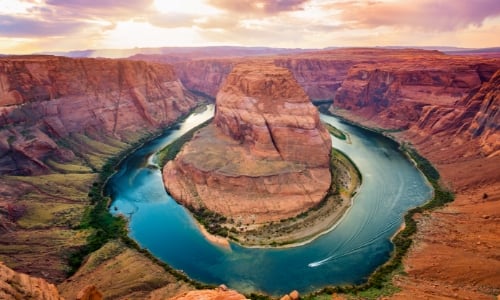 When time opens up and you want to take advantage of the opportunity to travel, it's important to keep a budget in mind.
Knowing where to go, and how to save, can help any traveler enjoy their journey without the guilt of large spends while on vacation.
Here are some destinations that offer budget-friendly family fun!
1. The Grand Canyon
The Grand Canyon is one of the most beautiful destinations in the country and it is a vacation everyone in the family will enjoy. The Colorado River slices through the massive canyon, its sheer size mesmerizing any traveler.
While there, camping instead of heading to a hotel will take off that unnecessary day-to-day cost, and also provide a memorable experience for everyone involved. The sites located inside the park are affordable and offer hookups for RVs, restrooms close to the camp grounds, as well as showers that can be used for a small fee.
In addition, there are plenty of free activities people can enjoy while at the Grand Canyon such as visitor centers, scenic drives, hiking trails, museums, and ranger programs.
2. Yosemite National Park
This national park is an especially impressive destination, with approximately 1,200 square miles of Sequoia trees, waterfalls and other unique and mesmerizing scenery.
Travelers can save money on gas by leaving cars outside the park and taking advantage of the shuttle that provides access to all Yosemite has to offer. Camping in Yosemite is yet another affordable option to make use of when visiting the park.
3. San Antonio, Texas
With a beautiful River Walk littered with dining and entertainment options, San Antonio is a great destination for any traveler.
Whether people want to remember the Alamo or enjoy Tex-Mex flavors, there is something for everyone in this charming city. For a fun dose of the Texas spirit and the beautiful blend of Mexican influences, travelers should check out Fiesta San Antonio, a festival that takes place for 10 days every spring.
Oddly enough it is more affordable to visit on the weekends due to a high volume of business travelers in the city during the standard work week. Traveling to this city over the weekend will help ensure a tourist doesn't break the bank.
4. Alliance, Nebraska
Travelers don't have to go to the United Kingdom to enjoy this replica of a popular scenic site. Carhenge, located in Alliance, Nebraska, is a quirky and fun destination everyone can enjoy. Using cars to mimic the appearance of the famous Stonehenge, this landmark embodies a unique artistic expression travelers of all ages are sure to appreciate.
With free admission, this destination could turn into the main attraction on a road trip or quick stop along the way.
5. Minneapolis, Minnesota
After a long cold winter, this capital city has thawed out and is prepared to offer entertainment to tourists of all demographics. A thriving art scene, the largest mall in the United States, Minnehaha Park, the Minnesota Zoo, a sculpture garden and plenty of other attractions all draw many travelers to this Midwest city.
Those who aren't enticed by the world's largest mall, can enjoy a professional baseball game at Target Field, a beautiful, recently built ballpark near downtown.
6. Branson, Missouri
This destination is sure to be a blast for the whole family. From the shopping at Branson Landing to the fishing and watersports of Table Rock Lake and Lake Taneycomo, there are entertainment options for everyone. While Branson offers entertaining shows and discount packages available, it's easy for those traveling to enjoy all Branson has to offer.
With savings available on lodging as well as entertainment, it's easy to avoid draining a checking account for a fun summer vacation.
Finding the perfect place to go is only part of the process when it comes to planning an affordable vacation. It is crucial to put aside enough money for a vacation without cutting into savings. Learn how to save for the perfect vacation.