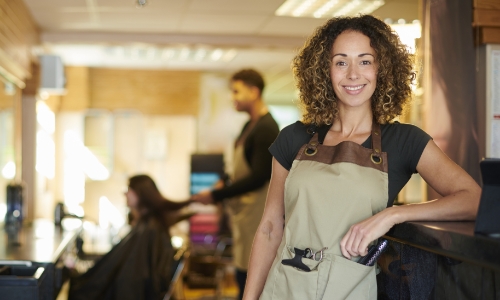 Attracting new consumers and retaining former customers is of the utmost importance for small-business success. Yet it can be difficult for entrepreneurs and fledging companies to understand the best method to build their brand. Here are three tips for where you can start.
1. Improve your search engine optimization (SEO)
One of the best ways to bring eyeballs to a brand is through search engine optimization, the ability for your business to rank when searching for products and services in a search engine. Creating a presence in search doesn't happen overnight; however, can be done by creating consistent and relevant content using keywords and metadata within your website.
Your SEO ranking has a large impact on your domain authority, how your website ranks on search engines. Many factors play into your domain authority including relevant content, overall increased traffic to your website, and the number of reputable companies and individuals that share content or link back to your website.
As in many cases, you don't know what you don't know. The key to staying up on latest SEO trends is to simply do your research. There are a ton of sources on the Web readily available to bring your SEO knowledge up to where it should be and provide a basic understanding.
2. Make business investments in social media
Should business owners spend their hard-earned cash on an advertising plan or should they look to save some cash by trying to promote their company through social media channels? For most startups, the answer is a no-brainer: Save money and do it yourself.
Social media is a cost-efficient way to get your brand out in the social realm, while engaging consumers and customers. The key is to creating relevant and engaging content that pulls social media users in - ask for opinions, engage with other brands, and react to comments.
Marketing Land reported 32 percent of consumers discover new sites on social media, which provides 18 percent of qualified business leads. However, it's important to select the right social media channel to start with. A fitness gym or exercise company might want to build their brand on YouTube by creating videos of how to properly lift weights. Meanwhile, a clothing company might find success marketing itself on Instagram, which tells a story using pictures, and a bar or restaurant might prefer to engage consumers using Twitter.
3. Provide customer service through social
Customer service isn't just important for a great in-store experience, small businesses also need to extend a helping hand on their social media pages. This means businesses should respond to any inquiries as quickly as possible. A few clicks through a social media page and consumers can easily tell if a company is responsive to questions. The faster and more honest the responses, the more likely a business is to gain followers and future questions down the line. It might take a while before a social media page really hits its stride, but business owners need to be patient. Good things rarely happen overnight and that can definitely be the case for social media.