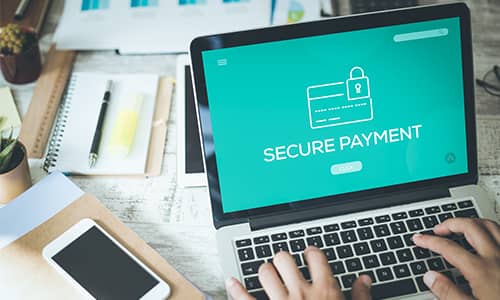 Card security can be easily compromised while shopping online. Scammers and hackers can use malware to steal personal information from a device. Use these tips to protect your personal data and stay safe while shopping online.
Only use your card on websites you trust.
Only make purchases from sites in which you are familiar. Avoid clicking on email links, particularly in unsolicited emails. These links could take you to a fake website created to steal your card information.1
Is the website a secure site?
Look for an "https" connection in the website link and other certificates of authentication. The "s" in "https" means that the HTTP data has been encrypted and transferred over a secure connection. Legitimate ecommerce websites will often have a "trust mark" on the footer, header, or checkout pages on the website. These marks are accreditations from Internet security bodies (such as Norton or McAfee) and should give an indication that this website is trustworthy.2
Make purchases when on your home network.
If you're going to make a purchase, do it when you're on your personal device at home on your own Wi-Fi. There's a greater chance that your credit card information can be stolen when you enter your payment details while on public Wi-Fi or on a public computer. Public computers can have spyware installed on them that could seize your personal data.
Never email your card information.
While it is secure to enter your card number online to make a purchase, never give out your card information over email. Any time you write or type your credit card number and give it to someone in an unsecured, unencrypted manner, you increase the risk of potential fraud.
Prevent scams by protecting your computer from hackers.
Install reputable anti-virus and anti-spyware software on your device to prevent scammers from gaining access to your information.
Unsure about a website?
Verify with the Better Business Bureau or other consumer reports before entering your credit card information. If the company has a poor customer service record, avoid purchasing from this seller.
Use your credit card.
Credit cards offer more protection against fraudulent charges than debit cards. Also, if you use a debit card, the funds will be directly removed from your account. This can make funds difficult to recover quickly.
Print or screenshot credit card receipts.
Always screenshot your credit card receipts to compare with your billing statement to match up the totals. Contact your credit issuer if you notice incorrect amounts or suspicious activity.
If you're going to make an online purchase, remember these tips as you complete any transactions. Card security can be easily compromised; therefore it's important to make intentional decisions to prevent scammers from obtaining your personal information.
Worried your information may have been compromised? Contact your card issuer to report suspicious activity. To report a Central Bank lost or stolen card, use these phone numbers for your card's type.
Sources:
[1]. How to Safely Use Your Credit Card Online, The Balance
[2]. How to Shop Safely Online, Plusnet