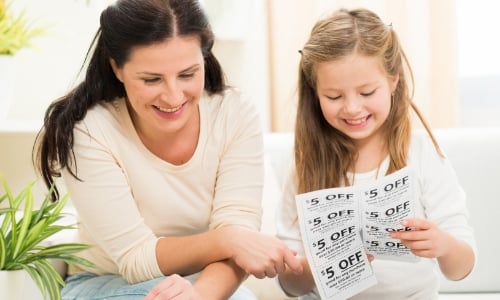 However, for most Americans, spending hours every week searching for and clipping coupons just isn't feasible. Fortunately, there are ways to conveniently use coupons and still earn big savings.
Where to look for coupons
Newspapers
For printed coupons, newspapers are one of the best sources. Coupon experts will often collect several copies of the same newspaper in order to snag extra savings. Sunday papers, which are generally larger and read by more people, will often contain the most amount of coupons in inserts. These can usually be found in the center of a newspaper with the weekly ads. If you want to get more inserts, you can buy more or ask friends and neighbors for their copies.
Magazines
Like newspapers, magazines will offer print coupons from time to time, though perhaps not as frequently. Major magazines that cater to household subjects may offer discounts and coupons related to the home and shopping.
In-stores
Whenever you enter a store, you should always check to see if it is offering items at discounted price. There might be coupons you can grab while walking down the aisle that will take some off of the cost off at the register. After you make a purchase, your receipt may also contain coupons for the next time you visit. Be sure to check both sides of a receipt to see if there are any coupon opportunities.
Coupon Books
What some might consider junk mail is a goldmine to others. Every once in a while, large coupon books packed with savings are mailed out to entire neighborhoods. The coupons may vary from place to place and can contain thousands of different coupons from all over. While it may take some time to sift through, there are great chances to find deals.
Online
The Internet can be an excellent source for savings in a variety of mediums. Manufacturer websites will sometimes offer printable discounts for customers or have discount codes. There are also several online coupon databases that store savings for thousands of different products.
Check with the store
It's important to do a little bit of research about the store you are planning to shop at. If it has a coupon policy that doesn't allow for more than one discount, you could be wasting time and money by shopping there when a different store might allow combined savings. It can be a good idea to ask your store every once in a while to see if any policies have changed so you don't get stuck without your savings. Also, be sure to look on the label of the coupon for phrases like "limit one per customer."
Customer Rewards
Frequent shoppers can have an advantage if a store offers customer reward cards. For each visit, you might earn points that can be used to save money on a later purchase. Most grocery stores will offer immediate savings at the register with customer cards. Card carriers might be able to add coupons onto their store advantage savings. If you sign up with a store, it might even send mailers directly to your home with coupons.
Time Your Shopping
To capitalize on all the possible savings, time your shopping trips so they fall on days when a store is already having a sale. Depending on the store's policy, you may be able to add discounts and coupons on top of sale prices and save even more.