One of the great things about a new job now is that you can focus more on your interests and less on the money that you will be making. Here are a few jobs to consider:
1. Bookkeeping: Since many small businesses can't afford to hire a full time bookkeeper, there are lots of opportunities in this field. Market Watch explains that nearly one in four bookkeepers is part-time, paying a median of $17 an hour [1].
2. Retail: If you enjoy helping people, consider a retail job. According to U.S. News, 29 percent of retail employers are looking to hire retirees [2]. Plus, if you work in a store that you like, there's a good chance that you will receive a discount.
3. Use Your Skills: If you know how to fix different things around the house and own your own tools, you may have a part-time business in your future. AARP explains that being a handyman can pay anywhere from $10 to $20 an hour. Making friends with your hardware store manager can be helpful in this situation [3].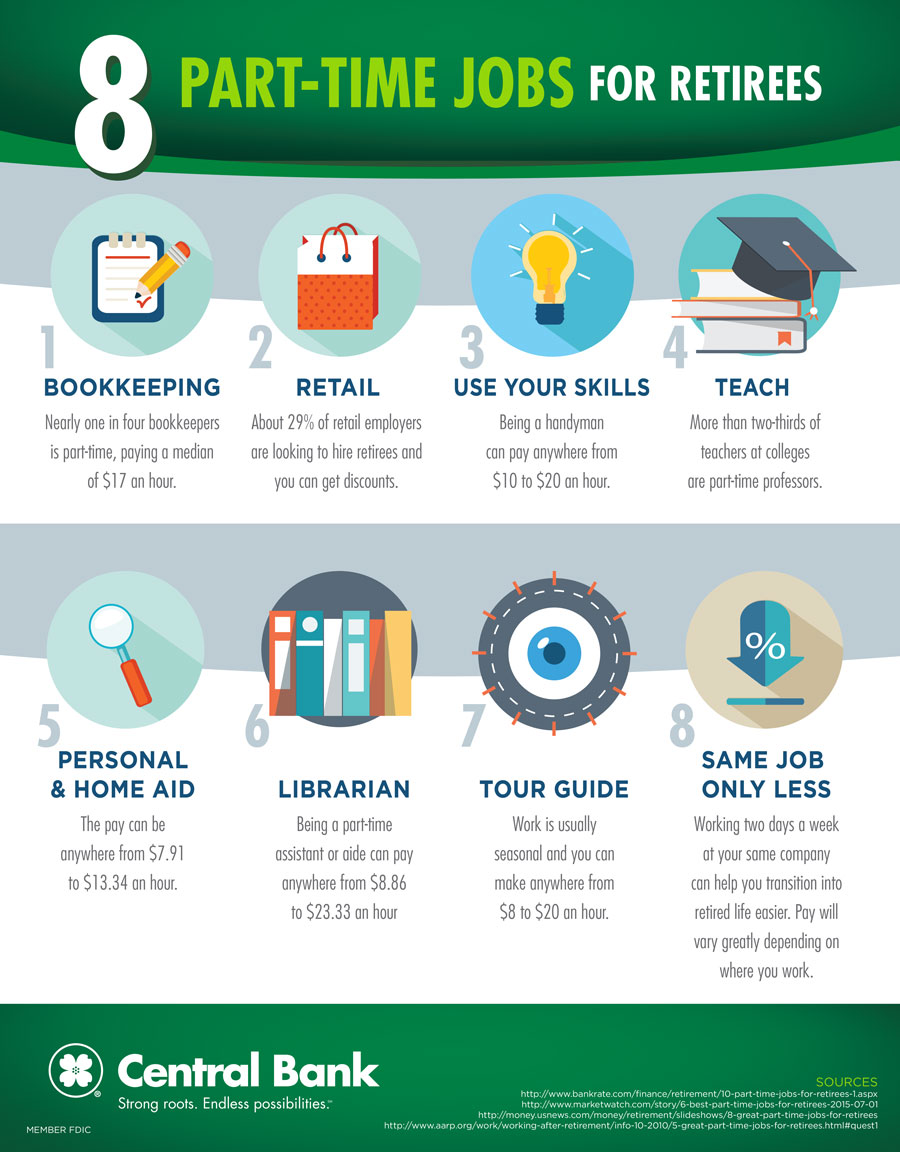 4. Teach: Local schools, colleges, and recreational centers are always looking for people with specific expertise. If there is a subject that you have knowledge on or a topic that you have experience in, consider teaching or tutoring. More than two-thirds of teachers at colleges are part-time professors, so look into the job opportunities at your local campus.
5. Personal and Home Aid: Helping the elderly, ill, and disabled is another option too. You will most likely have different chores like helping bathe them and keeping them company along with a little bit of house work. The pay can be anywhere from $7.91 to $13.34 an hour [3].
6. Librarian: If you are looking for a quieter place, a library job might be right for you. Being a part-time assistant or aide can pay anywhere from $8.86 to $23.33 an hour, depending on where you live and how much experience you have [3].
7. Tour Guide: Is there a place nearby that you just love? Like talking about history? Many tour guides take great pride in the stories of the places around them and find the job very rewarding. Though the work is usually seasonal or summer work, you can make anywhere from $8 to $20 an hour [2].
8. Same Job, Only Less: Change can be difficult, and you might enjoy what you do. If this is the case, consider doing your same job, but only less of it. Working two days a week at your same company can help you transition into retired life easier. Pay will vary greatly depending on where you work [4].
Sources:
[1] 6 best part-time jobs for retirees
[2] 8 Great Part-Time Jobs for Retirees
[3] Part-Time Jobs for Retirees
[4] 10 part-time jobs for retirees, Bankrate