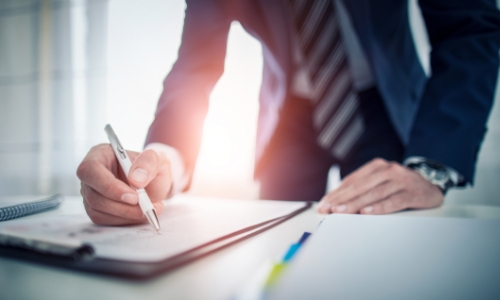 The one element that every task has in common is the need to evaluate it. Whether it's determining you're budgeting too little for advertising, to figuring out the best lending options for your business, you have to evaluate in order to keep your business running smoothly.
Evaluating your day-to-day tasks and responsibilities can involve a lot of variables, and researching if something is working, or you need to change it. Throw in unexpected variables, like a downturned economy, and your tasks get more difficult to consider. That's why when the economic environment makes a change, it's important to take some time and evaluate all aspects of your business. You may discover you need to make some changes to keep the business going, or things might be right on par and you can remain at your usual course.
Here are 5 questions you should consider to evaluate your business, especially when the economy changes.
What is the risk versus reward?
The first question you should always ask yourself when making a decision, business related or not, is what are the risks and rewards of something? If something is too risky, it may not be the right decision. But if the reward can outweigh the potential risks, it might be the better direction. This question isn't always easy to answer, and may require time to consider.
What minor adjustments can I make?
If an economic downturn impacts your business, then sometimes changes are necessary in order to make ends meet. Examine everything from your income, to your expenses, and review if any little changes can make a big difference. Maybe it's as easy as changing a vendor to save a few dollars, or something a bigger like taking on a task in-house rather than outsourcing. Either way, you might be surprised what solutions you can come up with to make a significant impact.
What major adjustments do I have to make?
Sometimes with financial change comes bigger adjustments. While these changes might not always be ideal, they are often necessary to keep the business alive when not as many shoppers are making purchases. Anytime you have to make a major decision that could greatly impact your business, it's probably best to consult with outside advice, like your accountant, lawyer, or banker. They can provide expert advice on how other businesses handled similar situations, which may help you with your overall decision.
Who will the change really impact?
The question of "who a change will impact the most" is not one to take lightly. If a change is positive, the decision is easy. It's harder to make an adjustment that can greatly impact someone. When it comes to questions like this, think about all possible outcomes and solutions. Ultimately, you sometimes have to make hard decisions, like enacting pay cuts or reducing staff, but at least it can provide comfort and ease to the situation, knowing you didn't make the decision lightly.
What will the customers think?
One of the hardest things to evaluate is also probably one of the most important ones – what your customers think. Today's customers are often vocal about what they think of businesses, and their opinions go a lot further than the product and prices you offer. Whether you're in a small community or a large city, a small shop or a national corporation, any change you make, good or bad, will come with the opinion of customers. The best thing to do when you're making a change, is to consider your communication plan and how you will handle the overall change. Creating a plan will ease the situation if and when customers communicate what they think about your decision.