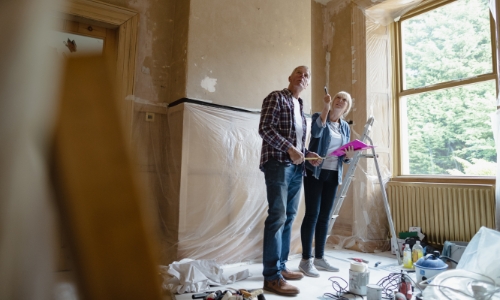 Many of the top home improvement plans that offer a strong return on investment include eco-friendly projects that improve energy efficiency.
A window upgrade is an eco-friendly project that insulates a home, reducing the cost of heating and cooling. A window upgrade yields a 78.8 percent return on an average investment of $11,341, according to Yahoo Homes. The source recommended upgrading to wooden frames because they offer a sleek look and can add to the level of insulation.
Properly insulating doors and windows are key to reducing energy costs.
"Air leaks account for 25 to 30 percent of an average energy bill, and this is one of the most profound steps that you can make for the betterment of your home's comfort and reducing the amount of your monthly bill," David Johnson, an expert in energy efficiency, told Inhabitat.com, a home design and architecture site.
Looking up
Homeowners contemplating eco-friendly home renovations might want to consider looking at their roof or attic as a place to start. Replacing or repairing a roof can offer energy savings by helping keep a home cool during the summer and warm during the colder months.
Homeowners should be careful what color roof they choose. More than 90 percent of roofs in the U.S. have a dark tone, contributing to roof surfaces reaching 150 to 190 degrees Fahrenheit due to their low-reflective nature. Light-colored roofs that reflect can stay up to 70 degrees cooler than their darker counterparts during the height of the summer, according to the agency. Cooler roofs mean a cooler home, decreasing the need to blast the air conditioning.
Yahoo Homes reported a new roof, while expensive at an average price of $19,528, typically provides a 71.6 percent return on investment. Yahoo recommended asphalt shingles as the best and most affordable roofing material.
Green home investments
Creating a rooftop garden is an eco-friendly way to provide shade and insulation, according to the U.S. Environmental Protection Agency. The agency said homeowners who are able to grow a rooftop garden should consider doing so. Green roofs remove heat from the air through evapotranspiration and act as insulators during the winter, lowering the energy needs of a home or building. If that's not enough, the EPA said green roofs lessen stormwater runoff in urban environments.
Replacing a furnace can also have eco-friendly benefits, according to Matt Blashaw, host of "Money Hunters," a home renovation show on DIY Network.
"This is usually not on the top of anyone's mind when it comes to home improvement, but between the rebates and the energy savings, replacing a forced-air unit can start to pump not only comfort, but money into your living space," Blashaw told DIY.
Blashaw, also a real estate agent, said he hears a "sigh of relief" when he shows potential buyers a home with a new furnace or HVAC unit. However, if the insulation in an attic isn't updated, homeowners will lose roughly 30 percent of the warm air their furnace is producing, Blashaw said.
Top home improvements based solely on return
An entry-level door replacement, a new manufactured stone veneer and a garage door replacement are the three best home renovations to complete based on return, according to Remodeling Magazine. All three offer at least an 88.4 percent on investment.

Remodeling Magazine said the home improvement projects that recoup the least amount of money are sunroof additions and home office additions receiving a net return of at least 50 percent.