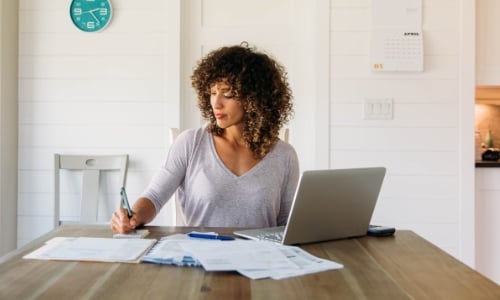 Typically to qualify for a mortgage loan, you must put down somewhere between 5 and 20 percent of the overall cost of the house. If you don't yet have enough saved for the bank's requirement, here are some tips for saving for a down payment:
1. Reduce large expenses
Zillow explains that reducing things like rent and larger portions of your income will result in the greatest amount of savings. Try and renegotiate your current rent with your landlord. If that doesn't work, consider downsizing once you're at the end of your lease agreement and pocket the difference [1].
2. Save your bonuses
If you come across a bonus at work or received a nice sum of cash on your tax refund, save it. You weren't planning on that money anyway, so why not put it away in savings. The nice little surprise will look even better added to your home buying fund.
3. Turn saving into a healthy competition
Forbes advises that couples should try to have a little healthy competition to encourage growth [2]. See who can save more and you'll be in your new house in no time.
4. Part-time
If you are finding a hard time saving any extra cash, U.S. News suggests considering a part-time job. Though it would take away from some of your off-time, you could potentially be pocketing all of the money from your second job and speeding up the process [3]. When you have the extra funds, be sure you stick with your initial plan.
5. Lean on your support system
Don't be embarrassed to talk to your family or friends if you need help; they are much cheaper to pay back and typically don't charge an interest rate.
Sources:
[1] 5 Ways to (Really) Save for a Down Payment, Zillow
[2] 5 Creative Ways To Save For A Down Payment, Forbes
[3] 10 Easy Ways to Save for a Down Payment, U.S. News