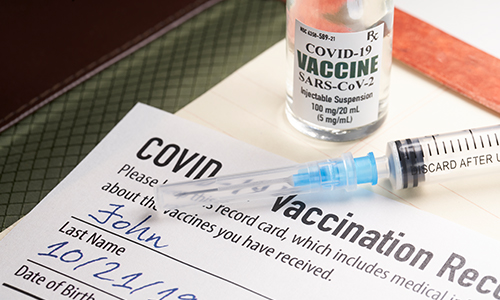 If you received a COVID-19 vaccine, it can be exciting to want to share with your friends online. However, these cards contain sensitive information like your full name and birthday, as well as the location where you received the vaccine. According to the Better Business Bureau, if your privacy settings aren't set very high, sharing this information can make it easy for criminals to target you for identity theft.[1]
In addition, sharing photos of genuine vaccine cards can make it easy for scammers to recreate fake versions and sell online.[1] Posting photos of your card can give criminals the information they need to create these phony versions.
According to the Centers for Disease Control and Prevention (CDC), HIPAA is the federal law that creates national standards to protect sensitive patient health information from being shared without the patient's consent or knowledge. While HIPAA requires businesses and healthcare providers protect your information, sharing your card online may give your information to more than just those you intend.[2]
How to Share Safely on Social Media
If you want to share news about your vaccination, here are a few suggestions on sharing safely:
Share your vaccine sticker or use a profile frame instead. You can share a picture of your vaccine sticker as it doesn't include your specific information, or consider using a profile picture frame to share that you received the vaccine.
Review and update your security settings. It's important to always evaluate your security settings on any online accounts, and see what level of privacy you set. Check your security settings to see what you are sharing, and with whom. If you only want to share with family or friends, be sure to double check your settings.
Be wary of answering popular social media prompts. The latest trend is sharing your vaccine card, but you should also be on the lookout for posts that ask answers to common security questions. Questions such as "list all the cars you've owned (including make, model, and year)," favorite songs, and top television shows.[1]
Be on the lookout for vaccine scams. Use caution if you receive a phone call, text message, social media advertisement, or email claiming you can pay to receive early access to the vaccine.
If you will need your vaccine card while traveling, it's recommended to take a photo of your card, instead of carrying your card with you.
We're here to help keep you safe and informed. To learn about Central Bank's response to COVID-19, how we can offer assistance, or if there's anything we can do to help, please contact us.
Sources:
[1] BBB Tip: Don't share your COVID-19 vaccine card on social media, Better Business Bureau
[2] Why You Shouldn't Post a Picture of Your COVID-19 Vaccine Card, Healthline