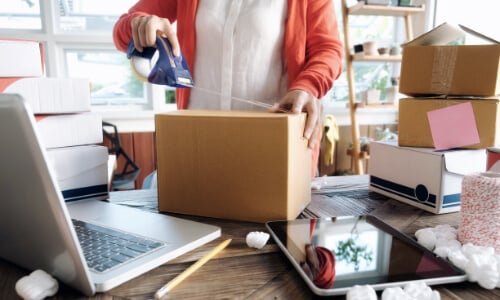 Or maybe you recently cleaned out your closet and found some old things you want to get rid of. No matter your reason, selling your items on the internet can be a great way to make an extra buck. It's a relatively easy process, but it does come with some risks you can tackle with a little strategy.
If you're going to sell something online, consider these few things:
Pricing

Okay, you've done the hard work and are ready to sell your first item online. But what should the price be? That can be a hard question to answer, because the value to you may be a completely different value to the buyer.

Some quick research of similar items for sale can help you set a comparable price tag. Another good strategy is to determine what your bottom asking price would be for the specific item. Consider how much work it took you to create the item or the original cost, but also think about any wear and tear if the item is used. One last thing to take into account is if you will have to deliver or even ship the item. Those costs can eat into your profit, and you may need to incorporate into your price.

Once you have that bottom line price set, feel free to bump the price up a little more. It's common for online buyers to barter, so setting the price at the beginning gives you a greater chance you'll receive the price you really want. After all, if your item isn't selling, you can always reduce the price.

Selling

Now that you've decided the price you want to sell your item for, it's time to actually put the item on the market. After taking the pictures and writing a catchy product summary, you'll need to consider where exactly to market your item to get the best asking price.

If you're selling something that you want to quickly get off your hands, then consider using social media, like Facebook Marketplace, or a notable website like Craigslist. These platforms allow buyers within your area to view potential items. Because of their close proximity, you are often able to sell your items relatively quickly and without having to worry about shipping. Another location-based selling platform to consider is the mobile app VarageSale. It is similar to Facebook Marketplace, and even allows you to double post your item for sale within Facebook, allowing more potential buyers to view it.

On the other hand, if you're selling something that you're willing to wait to receive that top dollar, consider using a specialty website or app. Take some time to research your market, and figure out where customers may be looking for items similar to yours. Platforms like Etsy, Handmade on Amazon, and ArtFire are good options for any crafts and unique items. If you're selling antiques or gently-used items, then eBay is another good option. For used clothing and accessory selling take a look at the mobile app, Poshmark. All of these platforms are well known and easy to use, but the one setback is that you'll most likely have to ship or deliver the item yourself.

Security

Selling online can come with some potential risks. As with doing anything online, you run into the risk of encountering potential scammers, hackers, and fraudsters.

Many online platforms have steps in place to protect both their sellers and buyers. Take the time to research your platforms' policies, and how they will protect you. A great online resource to us is PayPal, which protects your information and also provides a 180 day purchase protection service. Many online retailers partner with PayPal, making it a common and easy to use payment system. Also, think about steps you need to take to protect yourself. Fraudsters often operate schemes that try to trick you into shipping items to them, even though they will never actually pay for it. A good way to combat this is to be clear you will not release your item until you've received payment. It's exactly how big box stores and online retailers operate, so you're welcome to do so, too.

Even if you decided to sell the item locally, you still have potential for security issues. It can be risky putting your home address out for buyers to come pick up items. Instead, if you're able to, try to meet in a public location. This could be anywhere like the police station, your local bank, or even a mall parking lot. If you have to provide your actual address, make sure you set the meeting time during the day, and that your friends or family are aware. A good piece of caution is to make sure someone else is at home with you, just to be safe.
After you sell your item, enjoy basking in your glory from the profit you earned.