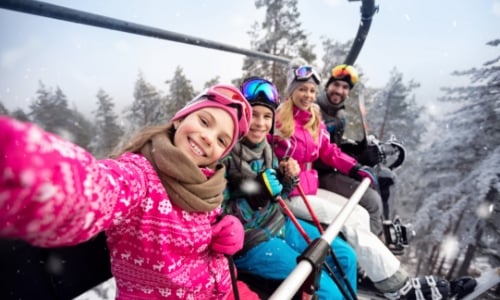 Here are four ways you can enjoy a future trip on the slopes without spending too much.
1: Travel in the offseason
To secure a bargain ski pass, find out when your destination's off-peak season is. Keep in mind local school holidays and avoid the busy Christmas and New Year period.
Try scheduling a ski trip before or after the holidays and during a weekday. Another option is to wait until the tail end of the ski season to hit the slopes. Booking a ski trip toward the end of the season and at less popular resorts will save you a good chunk of change.
You should start planning early. Some resorts may offer discounts if you finalize plans one to two months in advance.
2: Rent your gear
If you go skiing once or twice every year, you'll want to rent most of your gear. You aren't helping yourself out financially by spending hundreds of dollars on equipment that will sit unused in your closet.
However, it may be worth it to invest in a pair of ski boots. Try to find ones that fit well and can handle any conditions. Owning a pair of quality boots can provide warmth and comfort, and will last a long time, especially if you only ski a couple times a year. Ski boots are one of the more expensive pieces of equipment to rent, so it may save you money by owning your own pair.
Another perk of renting equipment is you'll avoid paying baggage fees. Every airline has specific policies regarding ski or snowboard equipment. Skis are a hassle to carry around, and airlines may charge you extra money depending on how many bags you're bringing.
3: Look for deals
Where are you planning on staying during your trip? It can be pricey to stay in a hotel close to a ski resort, and a hotel way up in the snowy drifts offers convenience as you can ski right out of the door but might break the bank. To save money, consider lodging at a hotel or even a home a few minutes away. Keep in mind, many ski resorts have free bus shuttle services to the nearest lift and to neighboring resorts. Check into Airbnb or Vrbo, especially if you're part of a larger group. Evenly splitting the total cost ensures everyone pays their fair share. There's not a big incentive to spend a lot on lodging because you ideally won't be inside most of the time.
Keep your eyes open for savings on ski trips around President's Day, Spring Break, or other popular spring holidays. You may be surprised to find the number of companies offering ski promotions.
4: Choose the right pass
Choosing the right type of pass is important. Common passes include:
Single day
Multi-day
Half-day
Multi-mountain
Season
Single-day passes are ideal if you visit many slopes and only plan one trip annually. If you're an avid skier, a multi-mountain or season pass is suitable. You'll want to tally up costs and benefits to decide which pass is right for you. Keep in mind that some resorts offer additional amenities to season pass holders. Common perks include cheaper food, merchandise sales, and free ski lessons.
Skiing can very easily drain your wallet if you don't watch your spending. But if you plan ahead and look for deals, you can enjoy the slopes and save money.