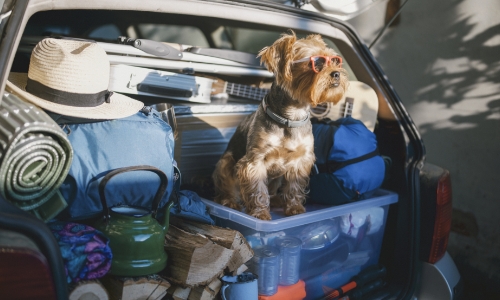 Many look forward to planning a spring or summer vacation as winter comes to a close. However, taking a trip to somewhere warm is tricky, especially around spring break time and early in the summer, when many college students are taking advantage of a break in school work or celebrating the end of a semester, and airlines and hotels are ramping up prices for the influx of travelers.
Save Up
Savings is the best way to financially prepare for your spring or summer getaway. Create a savings goal ahead of time to ensure you have enough money during your trip. You might need to cut out some unnecessary expenses, like eating out or going to the movies. But fewer of these short-term luxuries will relate to a more relaxing, financially sound vacation.
To create a savings goal, decide where you want to go on your trip. Then, research how much lodging, transportation and food typically cost. This should include travel and food on the way to the destination, as well as during your stay. Determine what attractions you want to visit while you are there and add those to your travel budget as well. It's better to aim for saving more money than you think you'll need, in case plans go awry, such as a delayed, missed flight or a medical emergency.
Create a Plan
Taking a break from the cold winter weather and your daily routine is exciting, but it's important to keep your financial responsibilities in mind, even when you're away. This doesn't mean you should be consulting your budget while you're laying on the beach, but it does mean you should have a plan in place to ensure your trip doesn't create any extra debt.
While you're saving up for your trip, be sure your savings goals aren't taking away from necessary expenses you need to pay like monthly bills and debt payments. This should continue while you are on your trip. Be sure you can afford to keep up your regular monthly payments on personal loans or mortgages. If you have credit cards you are paying off, consider leaving them behind or bringing them along only to use in the case of an emergency. If you do decide to use them, another solution is to pay of your balance spent at the end of each day.
Find Discounts
Saving money and creating a plan aren't the only two ways to ensure a financially sound vacation. There are plenty of ways to spend as little as possible on a trip. The first place to start is your destination. Popular spring break getaways will likely be more expensive this time of year. According to U.S. News & World Report, there are many alternative locations that are just as relaxing, for a much better price [1]. Instead, check out some cheap places, like Puerto Rico or South Padre Island in Texas.
Daily Finance suggested reworking your idea of what a vacation is to help save money [2]. Maybe you have a big hotel room and fancy restaurants in mind, but these are sure ways to overpay for your trip. Try replacing these options with more affordable ones. Instead of looking into hotels, search for hostels or check out home sharing services for cheaper rates. Rather than going out to eat every night, stop at the grocery store for some groceries and pack a picnic for one of the days.
This time of year, it's hard not to come down with a case of spring fever. But don't let the prospect of warm weather ruin your budget. Through careful and smart planning, you'll be able to have an affordable, relaxing spring vacation.
Sources:
[1]. 3 Ways to Save on Your Spring Break Vacation
[2]. 10 Tips to Help Save on Spring Break