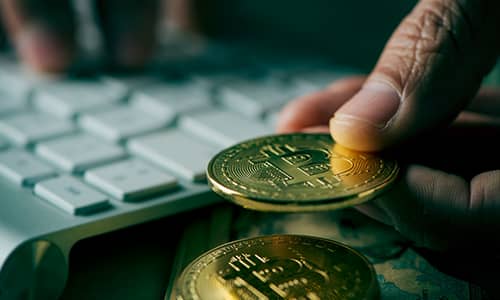 Cryptocurrency is a type of digital currency that exists electronically. To purchase cryptocurrency, you can use your phone or computer via a crypto exchange platform, or a physical cryptocurrency ATM.
Bitcoin and Ether are well-known cryptocurrencies, but there are many different cryptocurrencies, and new ones are continually being created. Before you invest in cryptocurrency, know how to spot different types of cryptocurrency scams.
Situation 1: Cryptocurrency ATMs
Buying cryptocurrency through a crypto ATM machine or through the internet from someone you have never met in person, are never good ideas and will almost always result in you losing money. If you are considering investing in bitcoin or other cryptocurrencies, you should only buy via established U.S. based platforms.

For example, Robinhood, Coinbase and other similar platforms have better exchange rates and better controls. If you invest from other companies, make sure you search online for the name of the company and the cryptocurrency name, plus words like "review," "scam," or "complaint," to see what others are saying.
Situation 2: Emergencies
You might have heard the claim "it is quicker to send via crypto" for any given emergency. No emergency is so great that you cannot spend some time sending through better, more trackable channels. Keep mind, cryptocurrency payments do not come with legal protections, so if something goes wrong, you likely won't get your money back.

If someone tells you it's faster to send via crypto, remember, it takes the same amount of time to send funds securely via a wire service provider like Western Union. In addition, U.S. service providers can give you a better exchange rate, security, and trackability. Plus, wiring funds will discourage you from sending money to a stranger.
Situation 3: Never Pay Someone in Advance
Be cautious of fraud and taxes. No matter the situation, taxes never need to be paid in advance of you receiving something. Never send money to anyone to cover taxes, fees, or anything before you receive something in return. Cryptocurrency payments are not reversible. Once you pay with cryptocurrency, usually the only way to get your money back, is if the person you paid sends it to you. Unfortunately, not many criminals are interested in returning money they've stolen.
Situation 4: Investing
Many people use cryptocurrency as an investment opportunity, hoping the value goes up. Investment scams are one of the top ways scammers trick you into buying cryptocurrency and sending it to scammers. There's nothing "low risk" about cryptocurrency investments. If a person promises you'll make a profit, that's a scam. Never invest with an individual person. Only invest with well-known entities such as Fidelity, Robinhood, etc.