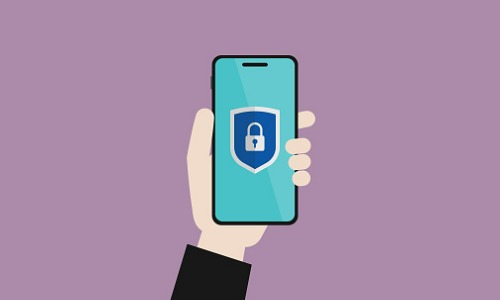 We use smartphones every day for many different uses. Mobile devices have a lot of our personal information and data, and it is important to protect it.
How to Protect Your Cell Phone
Think of the apps you have downloaded on your phone: banking apps, credit card apps, emails, payment apps, photos and more. Use these tips to protect your information.
Set a Lock

The first and easiest way to protect your cell phone is with a screen lock. Each time you turn on your device, you'll be asked to unlock your device with a passcode, fingerprint, or face recognition.

Update Your Software

Keep the software updated on your phone. It is easy to click "Remind Me Later" a few times, and a few times turns into months. Keeping the software updated on your phone is one of the easiest and most basic ways to protect your data. These updates help protect against security threats on your phone's software. Updates also apply to your apps as well to protect against security threats, so it is important to keep your apps updated.

Back Up Your Data


Along with phone locks and updates, backing up your data is an important step to protecting your cell phone. Whether you have an iPhone or Android there are steps to help guide you on how to back up data on each device. This helps when losing your phone, you will still have a backup option to retrieve your data.
What if I lose my mobile device?
Don't let your important information fall into the wrong hands. If you lose your mobile device, you are able to clear your personal information from anywhere. Being able to clear your device remotely is very useful, although you need to set up the capability ahead of time.
Getting Rid of a Device? Be Sure to Reset Your Old One First!
Protecting your data when you are getting rid of a device is just as important as when you are using it. When you are getting a new computer, phone, or tablet you should reset your device back to factory settings or reset it.
If your information is not already backed up this is the first step to complete. You can utilize online options such as iCloud, or Google Drive to back up your information. If you have already purchased your new computer or device, you can simply transfer onto your new device instead. One other option would be an external storage device, if minimal storage is needed a USB would be fine, or an external hard drive for large storage needs.
After you have completed backing up your information, the next step will be to wipe your hard drive on the device you are getting rid of and restore to factory settings. Most devices come with a setting to make this very simple to complete.
Lastly, when your old device is wiped clean and restored to factory setting you will want to dispose of the computer or personal device responsibly. You can recycle, sell, or even donate your old device!