Payment apps can be a useful and handy tool, but criminals are coming up with ways to get your money. While the technology is secure, scammers try different tactics to obtain your personal information and passwords. Criminals will pretend to be from a legitimate source – your bank, the government, even family members – and are targeting more precisely.
Using increased personalization, fraudsters can use social media to know more about you. That's why it's important to know what sort of things any bank or legitimate entity will never initiate first contact with you to ask. The Federal Trade Commission (FTC) and American Banker's Association (ABA) share information to help keep you safe while using payment apps. Here's what tactics to watch out for.
Ways to Avoid Being Scammed
Do not click any links in an unexpected email, text message, or direct message.
Do not give out your username, PIN, or password.
Confirm you know the person to whom you're sending money.
Double-check all the information is correct before sending funds to those you know.
Remember, your bank will never call, text, or email you to ask for personal information – as your bank, we already know this information. If anything sounds unusual, trust your gut! Hang up the phone on any interaction that doesn't seem right, and contact us using a trusted channel.
We Don't Ask for Your:
One-Time Passcodes
Passwords of any kind
Full Social Security Number
PIN Number
Debit or Credit Card 3-Digit Security Code or Card Expiration Date
Online Banking Secret Word or Password
Account Number
How to Protect Your Accounts
Use Multi-factor Authentication - this additional layer of security requires two or more credentials to access your account, such as a fingerprint or verification code.
Never share your login credentials - including a verification code via text message, or authentication app.
Regularly check your accounts - make sure no unauthorized payments have been sent from or accepted by your account.
Set up alerts in the Mobile Banking App - Be notified on transactions, balance, card activity, and more!
To set up alerts within Online Banking:

Sign into Online Banking
Click "Manage Alerts" in the top menu navigation
Choose what alerts to receive

To set up alerts within Mobile Banking:

Open the Mobile Banking App
Login with your Online Banking username, password, and secret word
Select "Card Management," and choose what alerts to receive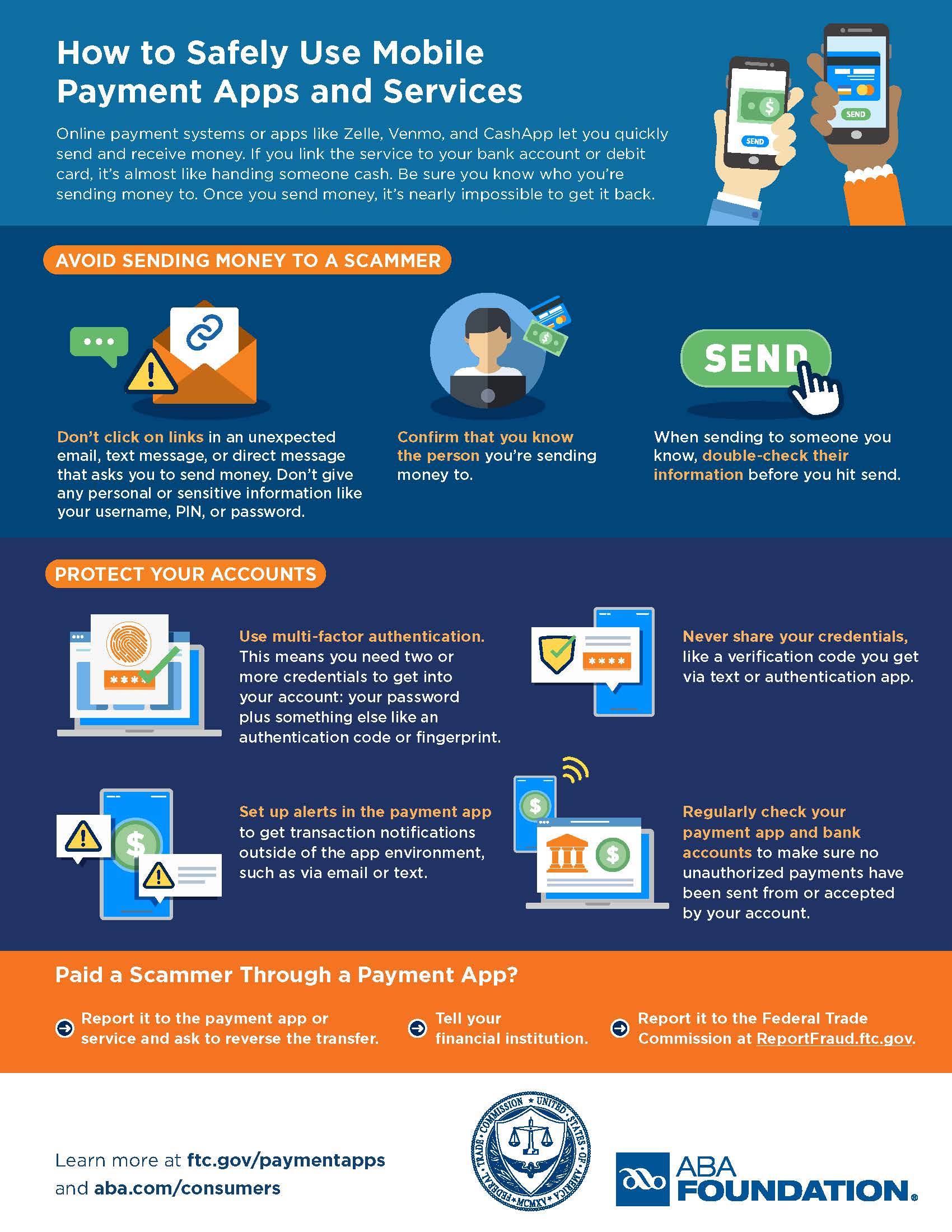 Paid money to a scammer?
Even if you've fallen victim to fraud, it's important to report in an effort to protect your community from scams and bad business practices. According to the FTC, you'll need to report it to the payment app service or bank, and ask to reverse the transfer. Then, let your financial institution know what happened. In addition, it's important to report it to the authorities – they can track fraud trends and understand the dynamics behind these scams.
If you sent money through a payment app, here are links to file a report: