"It's a Trap!"- 6 common financial mistakes after graduation
After 4 years of hard work, college is finally over and it's time to start your career, and pay back your student loan debt.
You would think that having a disposable income would make it easy to start accruing savings and paying off loans. However, there are many mistakes that recent graduates make that endanger their financial stability when becoming young professionals. The financial lifestyle and habits you establish now will set the stage for your financial future. Here six common traps to avoid as a recent graduate.
1. Not having a budget. Simply put, don't spend more than you make. Calculate the amount of money you're taking home after taxes, then figure out how much money you can afford to spend each month while contributing to your savings. Be sure to factor in recurring expenses such as student loans, monthly rent, utilities, groceries, transportation expenses and car loans. You can use an online budgeting tool, such as Money Manager, to track your spending and create your budget.

Your emergency fund should amount to three to six months' worth of living expenses.
2. Forgoing an emergency fund. Make it a priority to set aside the equivalent of three to six months' worth of living expenses. Start putting some money away immediately, no matter how small the amount. A bank savings account is a smart place to stash your cash for a rainy day.
3. Paying bills late - or not at all. Each missed payment can hurt your credit history for up to seven years, and can affect your ability to get loans, the interest rates you pay on loans, and your ability to get a job or rent an apartment. Consider setting up automatic payments for regular expenses like student loans, car payments, and phone bills.
4. Racking up debt. Understand the responsibilities and benefits of credit. Shop around for a card that best suits your needs, and spend only what you can afford to pay back. It's a great tool if you use it responsibly.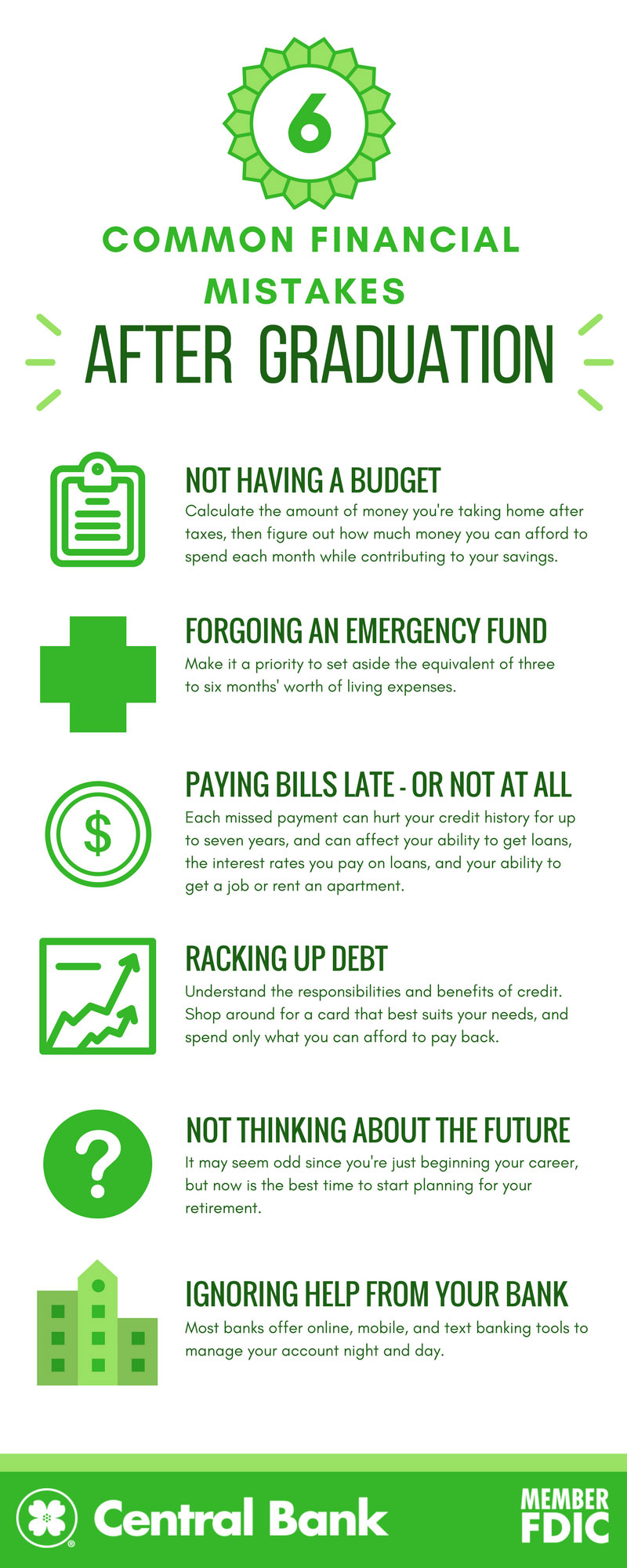 5. Not thinking about the future. It may seem odd since you're just beginning your career, but now is the best time to start planning for your retirement. Contribute to your employer's 401(k) or similar account, especially if there is a company match. Invest enough to qualify for your company's full match - it's free money.
6. Ignoring help from your bank. Most banks offer online, mobile, and text banking tools to manage your account night and day. Use these tools to check balances, pay bills, deposit checks, monitor transaction history and track budgets.
At Central Bank your financial future is very important to us and we're here to help you kick start your finances on the path to success. As always, feel free to reach out to us for any financial questions or concerns you may have. We are more than a financial institution. We are a trusted resource, and we're here to help you.

American Bankers Association
The information provided in these articles is intended for informational purposes only. It is not to be construed as the opinion of Central Bancompany, Inc., and/or its affiliates and does not imply endorsement or support of any of the mentioned information, products, services, or providers. All information presented is without any representation, guaranty, or warranty regarding the accuracy, relevance, or completeness of the information.