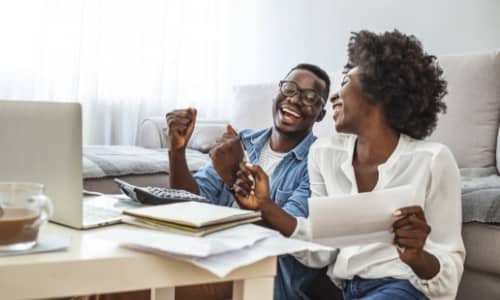 Let's face it, dropping coins in the piggy bank isn't as satisfying as it used to be. Less and less your pockets clink with change, and making a point to hang onto extra cash for a rainy-day can easily slip your mind.
We're here to help you make the most of your money. Check out these benefits to automating your savings, and learn about our handy solution to set yourself up for savings success.
Benefits to making saving automatic
First things first, what does it mean to automate your savings? Automating your savings is when you set a certain amount of money to automatically transfer into a designated account based on your preferences. There are many different saving programs and functionality may vary, but it's an easier way to save smaller amounts of money more often, instead of remembering to make larger, less frequent deposits into savings. Here are a few benefits to automating your saving:
No need to remember to add to your savings account

– it's automatic! By setting a certain amount to transfer into your savings account with each transaction, you won't have to remember to add money – just watch your savings bloom!

Save incrementally

– by saving a smaller amount more frequently, your savings will grow over time. Plus, you likely won't even notice a few dollars less in your checking account!

More convenient

– some automated savings programs allow you to add to savings based on how often you use your debit card.
Give your savings a boost with RoundUp
One solution to get your savings account on track for success is Central Bank's RoundUp program. This is a FREE savings tool to help you save smaller amounts using your checking and savings account. Every time you use your debit card, we'll transfer money from your checking to your savings account.
Here's how it works: We'll round up each of your Mastercard® debit card transactions to the nearest dollar and transfer the difference from your checking account to your designated savings account daily.
For example, if you buy coffee for $3.70, we'll RoundUp to $4.00 and transfer $0.30 to your designated savings account.
With RoundUp, you have two options to save:
Either RoundUp transactions to the nearest whole dollar
Or set $1, $2, or $5 to transfer every time you use your debit card
Can't decide what to choose? No worries! It's easy to change your saving preferences anytime by logging into your Online Banking or Mobile Banking App.
After choosing your saving preference, the program will automatically tally up each time you make a transaction with your debit card. Then, at the end of each business day, the total amount will be transferred from your checking account to your savings account. And don't worry, no transfers will happen if there aren't enough funds available.
Once you have your Central Bank checking account and savings duo, it's easy to enroll and get on your way to growing your savings.
To set-up RoundUp follow these steps:
Log into Online Banking
Select Account Preferences from the menu
Select RoundUp Card Transactions