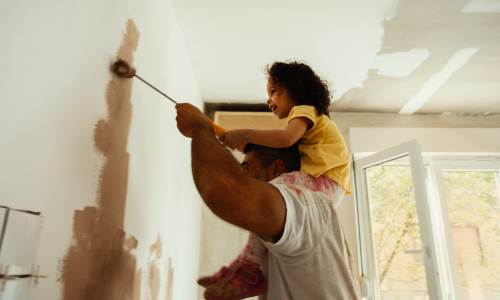 Budgeting for a Home Project
Starting a new home project can be an exciting adventure. But how do you pay for the project if you don't already have the extra funds?
Maybe you've had your eye on a new BBQ pit, or you're finally ready to tackle a kitchen renovation. Regardless of your home project dream, it's important to take the right steps to establish and stick to a budget. Use these steps to evaluate your project and set attainable goals so you can complete your project in no time.
Evaluate the Cost of the Project

The best place to start for a home project is to figure out how much it will cost. This may require some research, whether you plan to make it a DIY project or hire professional help. Take time to shop around and find an average cost of items you'll need to purchase. Also, consider getting more than one quote if you plan to hire a contractor or outside help.

It is important to keep in mind the lowest cost may not always the best option, so think about your cost versus the quality in which you want. Before you finalize your project cost, always add money to a contingency budget. You never know when unexpected expenses could pop up, so it's a good idea to account for that cost beforehand.

Determine if the ROI Value is Worth it

After you've finalized your project cost, determine if the Return on Investment (ROI) value is worth the time and money. Some projects may be emotionally based, like fulfilling a lifelong dream of building a wood shop. In that case, the overall investment outweighs the cost, especially if you plan to stay in your home for many years. But what if you plan to sell your home in the near future?

Some investments may not recoup their cost when it comes time to sell your home. For example, an in-ground pool. Real estate experts estimate an average 14x28 foot in-ground pool potentially increases home value five to eight percent, however, the average cost to install is roughly $50,000, which means you may not recoup a portion of your initial investment.[1]

Other projects, like renovating a bathroom or finishing a basement, increase your home's value and can add additional square footage, which increase your chances to sell your home. Consider all your options, wants and needs, as well as any long-term or short-term events coming up in your life.

Review Your Current Finances

Now that you've done all the preplanning and evaluating, it's time to review your budget and see where your project may fit in financially. The easiest way is to break down your incoming funds, compared to your monthly costs. Include everything from monthly necessities to upcoming vacations and events.

An easy way to accomplish this is through Money Manager in Online and Mobile Banking. You can also review your past month's expenses and see what patterns you typically have each month. From there, see how much you have left over each month, as well as anywhere you may be able to reduce spending and save money. Little savings, like eating out less or cutting a subscription service can go a long way toward your project budget.

Set an Attainable Savings Goal and Timeline

You're in the home stretch for creating a budget for your project. Most of the heavy lifting is complete, so you can now create a savings goal. It's important to consider how long it'll take to achieve your savings goal. Some goals may be easily attainable in just a few short months, while others may take a little more time to accomplish.

This is also a good time to think about all of your funding options, including if a loan or credit card may be a good option for you. Saving enough money for a down payment may not take as long as paying for the entire project yourself. That's when a home loan, home equity line of credit, or even a credit card may be a good option. Each of these lending options will allow you to pay off your investment over a period of time.

Establish a Set Place for the Savings

A good idea for your new project is to create established places for your funds, to help you easily track all of your savings. If you plan to save for the project yourself, consider opening a savings account. You can easily add money to it over time through auto-contributions or as you wish. When it comes time to pay for your new investment, think about opening a new checking account or create a new spending category with Money Manager for an existing checking account.

Opening new savings and checking accounts is often an easy process you can complete online. Regardless of where and how you plan to store your project funds, make sure it's easy to track deposits and withdrawals. Keeping project finances organized will make everything easier in the long run, and help ensure you don't go over-budget.

Track and Adjust as Needed

Once your budget is complete and you start saving toward your goal, you can rest easy for a while. It's a good idea to periodically track your progress. Maybe you're saving more than you expected and can complete your project sooner, which is great! Or you notice the opposite and decide it's time to adjust either your budget and savings goal, how much you're saving, or even the overall cost of the project. Remember, budgeting and savings don't happen overnight. Allow some time to reach your goal and make any necessary adjustments down the road.
Source:
[1] Does a pool add value to a home?, HGTV