1. Get your marriage license and certified copies
This is the most important step, and you won't be able to move forward with changing your name, without these documents.
Ask if you can purchase your certified copies when you're applying for your marriage license – that way they will automatically mail you your marriage certificate and certified copies when they're ready. It's recommended to start with three copies, and you can always purchase more later. You'll want to keep your certificate somewhere safe, but keep your certified copies on-hand to change your name.
2. Update your social security card
After you have your certified copies, you can let the government know what name you'd like to go by. You can either apply for a new social security card by mail or in-person at your local Social Security office. Find your nearest location.
If you're planning on going in-person to the Social Security office, save time by filling out this application ahead of time for a social security card. You will also need the following documents:
• Proof of citizenship: you can use your valid passport or certified copy of your birth certificate.
• Proof of name change: a certified copy of your marriage license – you will likely get this copy back, so you can use it again.
• Proof of identity: This must show your name, date of birth or age, and have a recent photo. You can use a valid driver's license, your valid passport, a valid state-issued identification card, or a U.S. Military Identification card.
• Social Security Card: You'll need your current Social Security Card, and will keep the same number when the government issues you a new card.
• If you're not a U.S. Citizen, visit here to help explain what documents you'll need based on your citizenship.
List continues below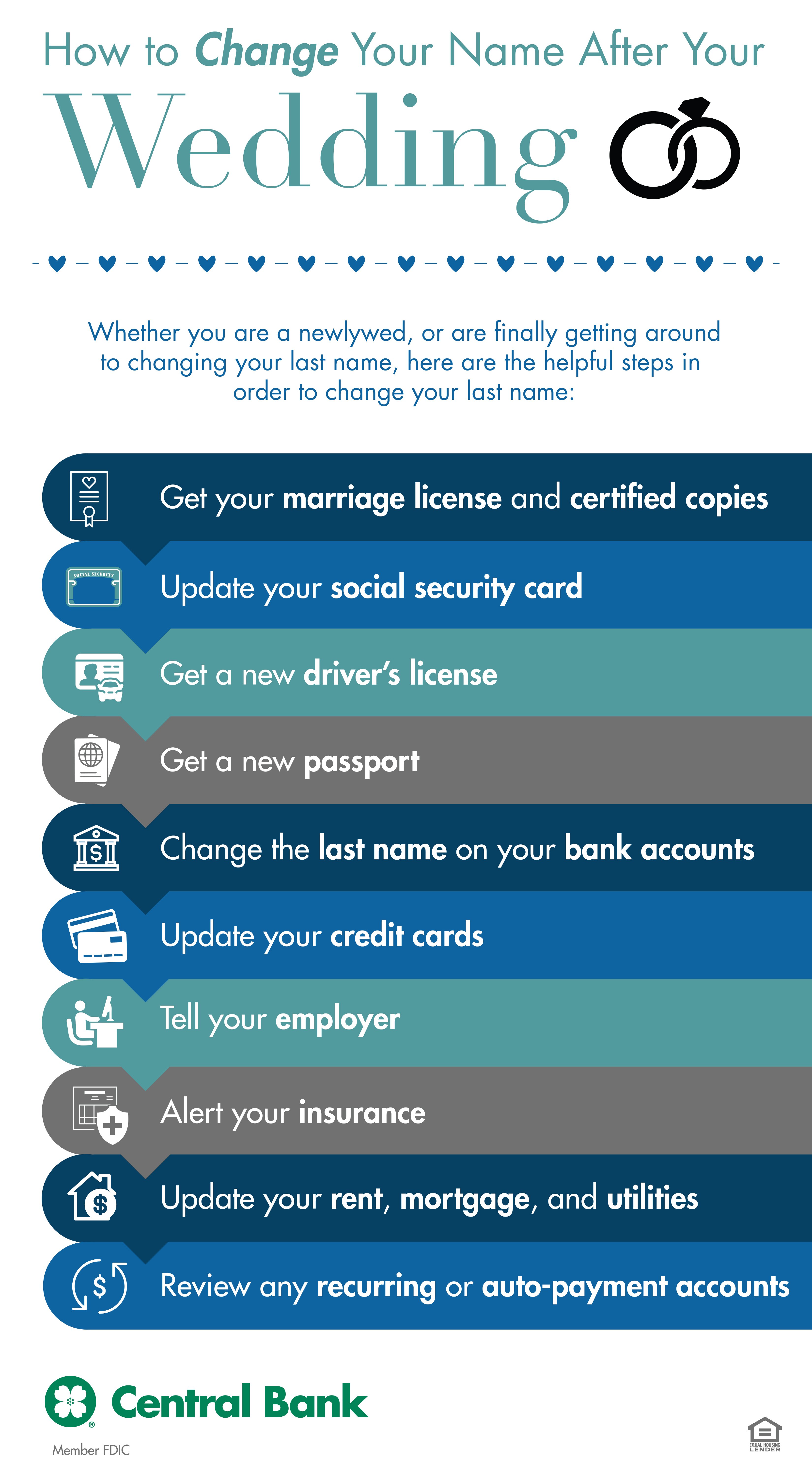 3. Get a New Driver's License
After you've visited the Social Security office, you need to wait at least 24 hours for your new name to update in the system, before going to the Department of Motor Vehicles.
To get your new driver's license, you need to be in-person. Most states consider a name change part of the renewal process, so you'll most likely have a new picture taken, and pay the renewal fee. You can visit your state's DMV website to print and complete the renewal application form. By filling out the form ahead of time, you'll save some time at the DMV.
Here's what you need with you when visiting the DMV:
• Your receipt from the Social Security office, or your new Social Security card if you have it already.
• Your current driver's license.
• Proof of address, if it's required in your state. You can use any bills mailed to your home address, mortgage or lease documents, insurance documents, or bank statements.
• A certified copy of your marriage license. You'll likely get this copy back as well.
• Your checkbook or cash. Most DMV's charge a processing fee to use a credit card, so you can save money by bringing cash or check.
Make sure to visit your state's DMV website to review if they require any other documents for you to get a new driver's license.
4. Get a New Passport and Travel Documents
The government classifies name changes on passports as 'corrections,' which means if you were issued a passport less than a year ago, you won't have to pay any fees. However, if your passport is older than a year, the fee for a change and new passport is $110, plus an additional fee if you need to expedite it to get on your honeymoon.
You must complete all passport changes by mail. The U.S. Department of State has the information to help you update your passport. After you filled it out the correct form, send these documents to the National Passport Processing Center:
• Completed form DS-82 (mentioned in the above link)
• A certified copy of your marriage license.
• Your current passport.
• A check for the passport fee, made payable to "U.S. Department of State." Your check must include your full name and your date of birth, either typed or written on the front of the check.
• A photo for your passport. This is a recent color photograph, 2x2 inches in size. Passport photo requirements can be found here.
It is important to know that you will receive a new passport number, which is something to take into consideration when booking foreign travel.
For more detailed information about Global Entry cards, TSA PreCheck cards, and international honeymoon information, please scroll below the numbered list.
5. Change the Name on Your Bank Accounts
Once you receive your new ID with your new name, it's time to update your banking information. Most banks require these changes in-person for security purposes. If you don't live near a branch, check with your bank about mailing in a certified copy of your marriage license.
Bring the following with you to the bank:
• A certified copy of your marriage license.
• Your new Social Security card.
• Your new driver's license.
Make sure to check with your bank beforehand in case they require any other documents.
It's important to note – if you're a joint owner on an account, or have accounts with someone else, they will likely need to go with you to the bank for account retitling purposes.
Be sure to request new cards and checks for your accounts. If you're updating your address, you'll also need proof of address, such as bills or mortgage documents.
6. Change the Name on Your Credit Cards
Updating your name on credit card accounts is different with every company. Some companies have forms on their websites, where you can input your new information. You'll need to provide a supporting document, such as your new driver's license, state ID, or passport. Once they process your request, they will mail you a new card.
Some credit card companies request a certified copy of your marriage license to complete the name change request. The best way to determine what you'll need to do, is contact your credit card company.
7. Provide Your New Name and Banking Information to Your Employer
After your ID and bank accounts show the same name, you can contact your companies' HR department to provide your new name and information. This way your payroll, whether check or direct deposit, will process correctly.
8. Update Insurance Information
If you decide to combine policies with your spouse, or just want to update the information on your policy, you'll need to be sure and update as quickly as possible in the event you need to file a claim.
You will need:
• A certified copy of your marriage license
If you're planning to combine coverage, it's best to make all these changes at once. Marriage is considered a 'major life event,' so you have the ability to change your health care coverage, even outside of an enrollment period. For home and auto, you might be able to save more money by combining multiple policies with the same company.
You won't need to contact your doctor's office or dentist about the change to your insurance. Instead, you can make these changes before your next appointment by providing your new insurance card and ID.
9. Update Mortgage, Rent, and Utilities
With your new name and bank account information, you can easily update your mortgage or rent, and utility companies. You can do most of these updates online or over-the-phone, and is usually as simple as providing your new information, and updating any billing information.
10. Review Any Recurring or Auto-Payments
Be sure to update your favorite streaming services, music subscriptions, or any automatic payments with your new billing information.
Name Change Considerations
If you want to hyphenate, or create a new name entirely, you'll have to petition your local court. The logistics vary by state, but you'll need to file a court order from a county clerk.
Keeping your maiden name as your middle name – This can be helpful if there's somewhere you forget to change your name and they need to identify you, such as a car rental service, or airline frequent flier miles, or if you wish to keep it for sentimental reasons.
Changing a last name for him – In most states, your fiancé will have to appear at your local county clerk's office and get a court order, and run a newspaper ad to prove he's not avoiding taxes, arrest warrants or debts.
Name change at work – You'll have to decide what name you want to use professionally, and reintroduce yourself to your colleagues, clients, and vendors. This is especially noteworthy if your company will change your email address to reflect your new last name. Also, if you decide not to change your name, it's helpful to let others know.
Global Entry and TSA PreCheck
If you have a Global Entry card, you won't be able to make a name change online, since you'll receive a new passport number when you change your name. Once you've received your new passport, you can bring it to your nearest Enrollment Center, where they will be able to update the information on your account. You'll hang on to your Global Entry card with your maiden name, and the digital data attached to your card will include your new information and match your passport. If you want a new card with your new name, after updating your passport information in-person, you can order one through your Global Entry account for a $25 fee.
If you have a TSA PreCheck card, but don't have Global Entry, call (855) 347-8371 to follow the prompts and speak with someone about PreCheck inquiries. They will provide you an email address to scan and send a copy of your marriage license, and then begin updating your information.
Important Information for International Honeymooners
If you're traveling outside of the country, you'll need your passport. Your passport must match your tickets. If you expect to have your new passport by the time you leave, you can book your tickets in your new name, otherwise, stick with your maiden name for travel purposes. Sometimes airlines are able to change your name after you have booked your flight, but the process to do so depends on the individual airline.