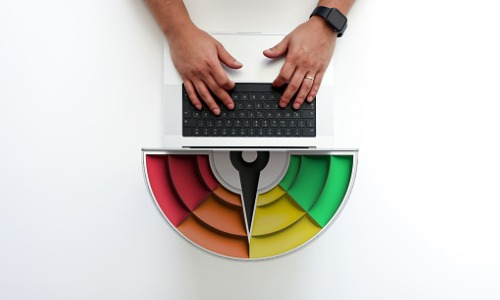 A credit score is a number that represents a rating of how likely you are to repay your debts on time. The most commonly used credit score is a FICO score, which ranges from 300 to 850. To achieve a high credit score, it's important to practice good credit habits.
Your credit score can help determine your financial future. By following these tips, you can help ensure that you have access to the credit you need when you need it.
How to receive your credit score:
It's important to regularly check your credit score and credit report for errors or fraudulent activity, as these can negatively affect your creditworthiness and your ability to obtain credit in the future.
Unlike your free annual credit report, there's no free annual credit score. But there are other ways to obtain your credit score.
Credit Bureaus
Your free annual credit report does not include your credit score, but you can buy it from one of the three major credit reporting agencies.

Credit Card Monitoring Services
Some companies might give you a free credit score if you sign up for their paid credit monitoring service. It might not always be clear that you will be charged for the credit monitoring. If you see an offer for free credit scores, check closely to see if you're being charged for credit monitoring.
Some of these companies include:
Credit Card Companies
Many credit card companies offer free credit scores to their customers, either on their monthly statements or online. Check with your credit card issuer to see if they offer this service.
MaxMoney Checking
If you're a member of Central Bank, you can get free credit score access with our MaxMoney Checking Account. Give us a call at (866) 236-8744 to upgrade to MaxMoney Checking today or stop by any Central Bank location to learn more.
What your credit score is used for:

Having a high credit score can be beneficial in several ways. It can make it easier for you to get a loan, credit card, rent an apartment or home, and lower your insurance rate.
Applying for loans and credit cards
Lenders and credit card issuers will look at your credit score to determine whether or not to approve your application. The higher your score is, the more likely you are to be approved.
Renting a home or apartment
Many landlords and property management companies will check your credit score before renting to you. A good credit score can help you get approved and may also result in a lower security deposit.
Obtaining Insurance
Some insurance companies may use your credit score to determine your insurance rates. A higher credit score may result in lower insurance premiums.
Applying for a job
In some cases, employers may check your credit score as part of the application process. This is more common for jobs that involve financial responsibilities, such as working in accounting or finance.