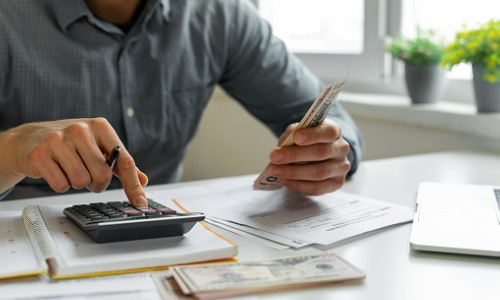 What is a budget?
A budget is a specific plan for your money which helps you control spending, plan bill payments, and reach your savings goals. By having a budget, you'll be in control of where your money is going, ultimately helping you become more financially stable. It's easy to feel overwhelmed and unsure where to start when it comes to planning your finances. Check out these six different budgeting methods to determine the best option for you.
1. Zero-Based Budgeting
Every dollar has a place with zero-based budgeting. With this method, your monthly income will match exactly what is going out of your account. With zero-based budgeting, you'll plan where each dollar will go - from a mortgage or car payment, to groceries and bills. Once you cover necessary expenses, use any remaining funds toward boosting your retirement savings and growing your emergency fund. There should be zero dollars remaining unaccounted for in your budget. This method allows you to be in control of your money, and know exactly where you're spending money. Typically, you'll plan the budget for each month's expenses. With this method, you wouldn't get to spend any money unless you have budgeted for it.
2. Balanced Money - 50/20/30 Budget
It's all about balance. If you choose this budgeting method, you should spend 50% of your total income on needs, 20% on savings, and 30% on wants. Your needs consist of necessary expenses each month, like your mortgage payment, electric bill, groceries or gas. Your savings could consist of your retirement, emergency fund, your kids' college fund, and debt repayment. Your "wants" are expenses that aren't necessary to budget for, but why not treat yourself once in a while? This could include optional expenses such as going out to dinner, taking a relaxing vacation, or purchasing those shoes you've been eyeing for months. This method is easy to maintain as you only need to budget three categories. When planning your monthly spending, overestimate your budgets to prevent overspending.
3. The 60-40 Solution
Instead of balancing your money with dollar amounts, this method balances your money with percentages. With the 60-40 method, 60% of your income will be put towards expenses you're committed to paying each month, such as:
Mortgage payment
Car payment
Groceries
Gas
Health insurance costs
Phone bill
Subscriptions or gym memberships
The remaining 40% of your income is separated into four categories, with 10% designated for each category:
Retirement saving
Paying Debt and Long-term savings, such as an emergency fund or stock purchases
Short-term savings - such as vacations or bigger expenses
"Fun money" for variable expenses, like dining out or new clothes
If you are someone who likes to automate and save your expenses, this would be a great method for you! However, you must be disciplined with your spending since your bills are only 60% of your income.
4. Cash-Only "Envelope Budgeting"
No plastic here! The envelope budgeting strategy aims to help control spending by only using the physical cash in your envelope. To get started with this budgeting method, separate your money into designated categories, then withdraw cash from your bank account. From here, put your money into envelopes and label each category. Let's say you have a $400 budget for this month's groceries, withdraw $400 cash from your bank account and put it in an envelope labeled "groceries". This method prevents you from mindlessly swiping your card. Instead, you know exactly how much you can spend. This method helps curb overspending, because once your cash is gone, you have no more to spend. Also, studies show handing over physical money and watching it disappear is painful. It might be a good idea to keep your credit card close in case of emergencies, but make sure you are only using it to cover yourself in a pinch. This method can work well alongside the zero-based budget strategy.
5. The "No Budget"
No planning, no problem. With this method the only thing you need to pay attention to is your bank account. If you choose this budgeting method, it would be best to make sure your bills and savings are automated, this way you can spend as you please after you make necessary payments. If you don't really like budgeting your money, this method is for you. It requires little work and is best if you have a high income. However, if you are prone to overspending, this method could be the wrong choice.
6. Values-Based Budgeting
What are your values? This budgeting method focuses on spending money based on your values, instead of worrying about how much you are spending on specific categories. With this method, you'll make a list of everything you're allowing yourself to spend money on, based off your values. Before you make your list, determine what your values are. Why do you want to spend money on something? How does it benefit you? If you enjoy grabbing a smoothie or coffee in the morning to help you feel energized, write that down. If you like playing golf after a long day of work because you like to get fresh air, write that down. Whatever is not on your list is what you won't spend money on. If you enjoy saving money and are already strict with your spending, this method would be a good choice for you. However, if you do not automatically save your money or are not disciplined when spending, this method might not be the best option.
7. Free Online Budgeting Tool: Money Manager
For additional help with budgeting, Central Bank's money manager will keep you on track with your finances so you can reduce your stress. Money manager allows you to link all your accounts so you can create a budget that is right for you. The online tool automatically tracks your spending and categorizes it, so you can see where your money is going. It can also help you avoid missing bill payments by using the cash flow calendar to schedule when your upcoming bills are due.
Simple, Easy to Use Budgeting Planner
Ready to get budgeting?! Check out this budgeting planner for an easy way to start mapping out your finances.