Are you stressed about traveling for the holidays? Worried about your budget or the busy airports? Your credit card rewards might be the thing you need to help you save money and even skip the lines.
The holidays are a time to be with your friends and family which for many means traveling to see them. This time can be expensive, busy, and hectic for travel. Of holiday travelers, 69% have concerns about their holiday travel plans and 31% are worried their trip will place a strain on their budget. To help you make the most of your travel plans here are a few ways your credit card rewards can help.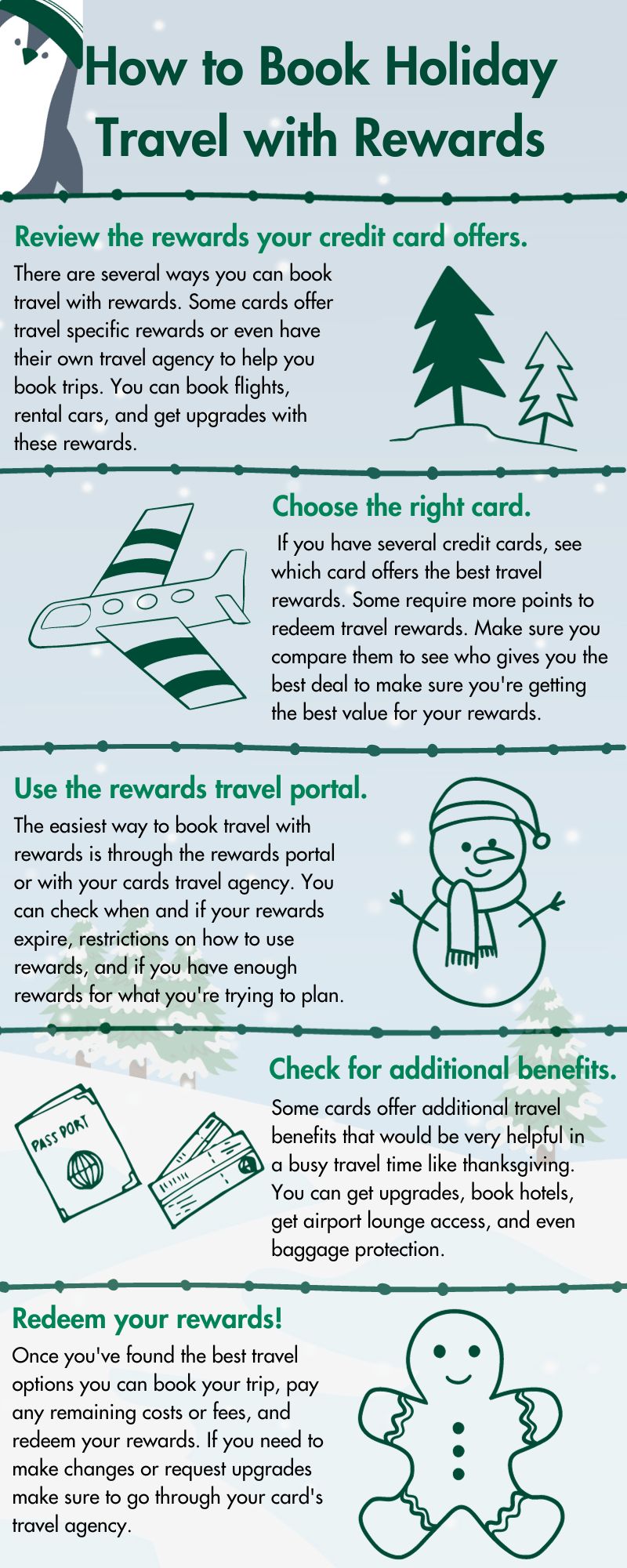 Review the rewards your credit card offers
There are several ways you can book travel with rewards. Some cards offer travel specific rewards or even have their own travel agency to help you book trips. You can book flights, rental cars, and get upgrades with these rewards.
Choose the right card
If you have several credit cards, see which card offers the best travel rewards. Some require more points to redeem travel rewards. Make sure you compare them to see who gives you the best deal to make sure you're getting the best value for your rewards.
Use the rewards travel portal
The easiest way to book travel with rewards is through the rewards portal or with your cards travel agency. You can check when and if your rewards expire, restrictions on how to use rewards, and if you have enough rewards for what you're trying to plan.
Check for additional benefits
Some cards offer additional travel benefits that would be helpful in a busy travel time like Thanksgiving. You can get upgrades, book hotels, get airport lounge access, and even baggage protection.
Redeem your rewards
Once you've found the best travel options you can book your trip, pay any remaining costs or fees, and redeem your rewards. If you need to make changes or request upgrades make sure to go through your card's travel agency.
Booking thanksgiving travel with your credit card rewards can be a great way to save money and enhance your travel experience. But make sure to review your rewards program, redeem them wisely, and enjoy your holiday!