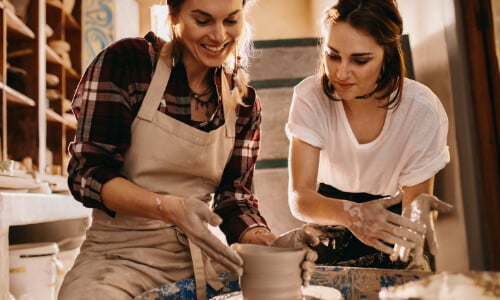 Some hobbies can provide you with an extra boost of income – select an activity you're passionate about, establish a side job, and brainstorm your business goals. Research marketable hobbies or trades, and turn your passions into a business that makes you proud.
Before launching your new business and leaving your full-time job, consider these tips for success:
1. Establish a goal
You're in the process of selecting a hobby and brainstorming business ideas. During this timeline, consider your end-goal. Are you wanting to create a full-time job from the hobby, or receive extra cash each month? While developing your business plan, decide your overall goal. This will set you up for success, and it will provide you with more motivation.
Setting a goal is essential for guiding your objectives. Consider forming a SMART goal – Specific, Measurable, Attainable, Relevant, and Time-bound. Check out these ideas for earning extra money.
2. Marketing and Social Media
After setting your goals, you can look into marketing. First, determine your desired audience, and figure out how you're going to communicate. Decide if you want to create a free website and social media accounts to display your business hours, contact information, products, and services.
Social media marketing can be profitable – research common practices, and experiment to see what consumers enjoy.
Generate your brand and logo to set yourself apart from other businesses. Host marketing campaigns, contests, and giveaways to raise a following, and you can start curating products.
3. Consider a business plan
Creating a business plan can help you prepare the finer details of your business. What are the finances and materials needed? What products and services will you offer? Write a business plan with your end goal in mind. After you decide your "why" or mission statement for the business, consider how you're going to fund your business. In addition, consider making it easier for customers to pay your business. With an invoicing and payments solution, like Autobooks, your customers will have options of how to pay, and you'll be able to easily keep track of your cash flow.
4. Setting up finances
Funding your business is only the beginning.
While in the process of funding your startup, it's important to consider opening a business checking account to keep your personal and business finances distinct. Tax season will be worry-free with the separation of personal and business revenue. As you accumulate more transactions and income, understand federal and state obligations. Registering your business is essential for protecting its legality and brand.
Contact us to learn about our business borrowing and account options. You can focus on reaching your business goals, while we focus on equipping you with the tools you need. Learn more about starting your business on the U.S. Small Business Administration website.
5. Avoid burn out
While in the process of generating your business, consider the possibility of burning out. Will you still find enjoyment in the hobby after establishing the business? No matter the answer, take precautions for keeping the hobby enjoyable. Don't over-commit and end up disliking your hobby.
Schedule free time, limit an excessive workload, and delegate work to avoid exhaustion. Feeling fatigued or stressed while preparing your new business can impact your long-term goals.
Starting a business revolved around your hobby can be fulfilling; therefore, it's important to be prepared as you create a plan of action. Follow these tips and contact Central Bank today for our Business Solutions.