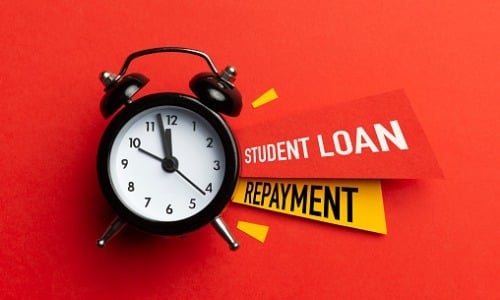 Major changes to your finances can always cause stress. That's especially true when it comes to student loan debt and repayment. After a significant pause due to the pandemic, your student loans have probably been out of sight, out of mind for several years. However, that is about to change. Federal student loan payments are officially restarting in October 2023 with student loan interest restarting on September 1st, 2023. Taking a few steps will help you get prepared, make a plan, and set up your financial future that includes paying off your student loans.
Log In and Get Organized

Go to the Department of Education's studentaid.gov website and update your contact and billing information, review outstanding notifications, and identify your loan servicer.
Log into your loan servicer's website and review important information, such as loan balances, interest rates, repayment plans, important deadlines (such as income-based repayment certifications), and your payment due date.

Make Loan Payments to Yourself

Start making loan payments to yourself by stashing money in a savings account. Putting money into a savings account, reserved for student loan debt, can be good practice to see how you can handle the payments when they're due again while earning a little interest.

Create and Use a Budget

There's no better time than the present to start your budgeting journey. Analyze your income and expenses to ensure you can handle your student loan payments each month. Consider areas where you can cut back on your spending to free up additional funds for loan repayment and debt paydown. If you need a little more help, check out ProsperU classes on budgeting to find out how to create, fine-tune and implement a budget that will work for you.

Beware of Scams

As always, when it comes to your money, beware of scams – particularly student loan forgiveness and repayment. Any customer service provided by your loan servicer, whether it's enrolling in repayment plans, information on potential forgiveness programs, or answering basic questions, is available for free and should be your first contact regarding your student loans.
With careful planning and diligence, you'll be well-prepared to manage your student loans and work towards a financially secure future.