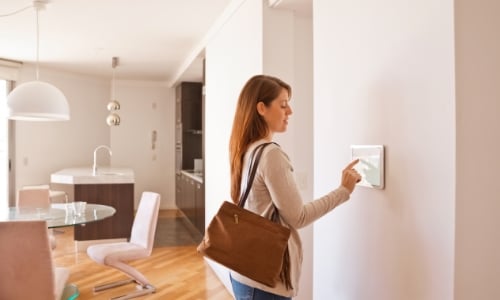 Cold temperatures are starting to make an appearance. While you may not be experiencing subzero digits just yet, it's probably started getting chilly enough for you to throw on a warm sweater while at home.
This also means it's near the point where you're considering turning on the heat, if you haven't already. You'll have to do so eventually in order to stay warm and ensure your house functions, but it's understandable if you want to turn it on earlier in the name of comfort.
Yet, as soon as you start to warm the home, you'll be charged. And depending on how well insulated your home is and its ability to keep heat inside, your heating bill may be higher than you'd like and ruin any budgeting plan you've completed.
Homeowners can expect to spend at least a few hundred dollars on heating through the late fall and especially in the midst of winter.
If you're looking for a way to lower your monthly heating bill in order to put some money back in your pocket, consider installing a smart thermostat.
What is a smart thermostat?
Every home has a thermostat and the smart version of this piece of equipment aims to give homeowners even more control over their heating and cooling. And with the help of some advanced learning on the device's part, you won't have to remember to set the temperature anymore before you head out for work.
Smart thermostats are also an extension of the growing smart home market. These connected devices can encompass door locks, indoor and outdoor security cameras, coffee makers, lights and speakers that will answer any questions you may have.
Put everything together and it's entirely possible for the following situation to occur: You come home from work, park your car and as you head toward the door, it unlocks while the lights turn on and the thermostat sets the temperature to a comfortable level.
Why should I get a smart thermostat?
According to WalletHub, the average U.S. family spends at least $2,000 per year on utilities, with heating and cooling of spaces alone accounting for more than half the bill [1]. If you live in a part of the country known for frigid winter temperatures, you can expect to pay a decent amount for heating. And if the season is worse than what forecasters predict, heating costs will go up even more.
A smart thermostat helps because the device is able to learn your preferences and adjust accordingly. This means that if you turn down the heat before you leave during the day, the thermostat will pick up on your habit. If no one will be home until the late afternoon, why waste heat?
Additionally, connected thermostats are just that - connected, but wirelessly. You're able to remotely access the device from anywhere in your home or even while you're away at the office.
Is your child heading home from school earlier than normal? No problem, as you can turn up the heat so he or she can enter a warm home.
These devices are also environmentally friendly and help save greater amounts of energy. And best of all, installation doesn't typically require professional assistance, although you can seek help if need be.
"Your utility provider may offer rebates."
Lower your bill
There are also other ways to put money back in your pocket by installing a smart thermostat. Depending on where you live, your utility provider may offer rebates when you make the switch.
For instance, residents who are with Ameren Missouri can claim a rebate of up to $50, on qualifying thermostats [2].
It's not just the winter season when you'll lower your bill, either. During the summer months of intense heat and humidity, smart thermostats are just as useful.
If you're looking to save money on heating this winter, consider installing a smart thermostat.
Sources:
[1]. Most & Least Energy-Efficient States
[2]. Ameren Missouri Efficient Products Program