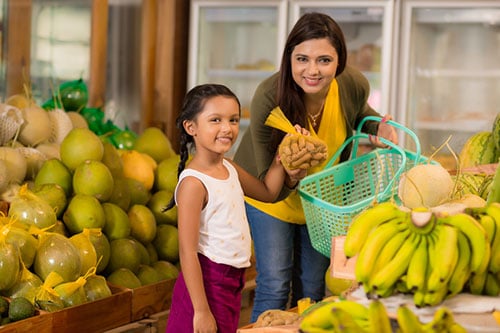 There are many ways to cut back on costs of staple items and even ways to make money just by shopping at your favorite grocery store.
In Da' Club
According to David Lazarus from MarketPlace, a family that spends over $150 a week on groceries at their local supermarket (like Walmart) could save over $2,000 by purchasing a membership to a club store like Costco or Sam's Club. Although these stores sell their items in bulk, if you are willing to invest in a deep freezer to have in your basement or garage you can easily store the large quantities of food for when you are ready to cook them. Buying pantry items, meats, and other items like cleaning supplies or hygiene products in bulk from a club store could save you up to 30 percent vs. shopping at a regular supermarket 1.
Plan Ahead
Meal Planning is probably one of the best ways to make sure you don't get caught in the trap of impulse buying at the store. A list is a must when you go to the store so you don't forget what you need, but creating a meal plan and knowing what you need for each meal allows you to have ingredients for each meal ahead of time. This solves the problem of returning home from the store and asking yourself, "Now what can I cook with all of this?"
Shopping Apps
Even if you have your list on paper, you probably still have your cell phone with you at the store. Not only can your kids call you for last minute add-ons to your list, but there are also apps that pay you just for taking pictures of your receipt! For example, Walmart introduced an app that allows you to scan your receipt and the app will look for lower prices automatically and credit you the difference in a gift card to use in the future2. Their app is free, and so are Ibotta and Checkout 513. These are two other free apps you can earn money by just scanning your receipt, so they can collect demographic data based on your purchases.
Couponing
Probably one of the oldest and best known ways to help keep costs down is by clipping coupons. While many coupons can now be found digitally, there are still many that have been printed for consumers to physically hand to the cashier at the register too. For more tips on couponing check out our article Couponing-101: How to Save Effectively
Sources:
1 Are Wholesale Clubs Worth the Membership Price?, Marketplace
2 Walmart: No More Price Matching at 500 Stores, Hip2Save
3 Have a Costco or Sam's Club Membership? Here's How to Get your Money's Worth, The Penny Hoarder