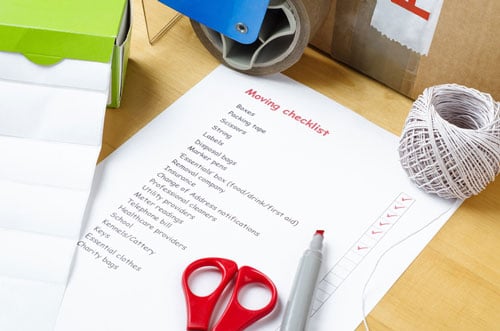 Yes, boxes, a moving truck, volunteers, and heavy lifters are all on your list, but don't forget about all of the companies you need to notify of your move. Add these tasks to your checklist now with the specific list of the companies to contact and their purposes. If possible, it's best to make arrangements in advance so you don't have to worry about making phone calls on move day. All you'll need to make the updates are your move dates and your new address.
Update your mailing address with your bank and credit card companies
Be sure to notify your bank and credit card companies so they can update their systems with your new address. The last thing you want to do is miss an upcoming bill or for your information to wind up in the wrong hands because your statements were sent to the wrong address. In most cases, you'll be able to update this information over the phone after answering a few security questions.
Notify your local post office of your move and new mailing address
Your post office needs to know that you're moving so your mail is not disrupted. There are two things you'll want to do - create a hold on your mail to where they'll hold it for pick up at a nearby post office location, AND ask for a change of address, where they update their systems and monitor your mail by your last name and/or address. This will give you time to get your address updated on all of your bills, magazines, and bank information.
Transfer your utility bills
Depending on where you live, your utilities, such as sewage and water, may be bundled together or through separate companies. Either way, it's important to call and transfer the service to your new address or set up an account with the new company for your new home.
Make sure your electric and/or gas are ready to go
Moving into a new home with no electric is not ideal. Eliminate the risk of no electricity by simply calling your electric and/or gas companies in advance. This can be done as soon as your move-in date is established. If you're moving in the winter, you'll want to make sure your heat is not shut off to avoid your pipes freezing.
Establish your dates for entertainment installation
Internet and TV can take some time to install. If you know what company you're going with for your new home, it's important to call in advance to get on their installation schedule. This will alleviate your wait on internet and TV once you're moved in.
Make your trash arrangements in advance
Call your trash company before your move to let them know your new address and check to see if they service your new home. In the case that the same company services both homes, they may give you the option of taking your old bins with you or having new ones delivered for a small fee. If you're going to have a lot of trash during your moves, it's also a good idea to let your trash company know in advance so they are prepared.
This list is not a one size fits all. You certainly may have additional companies you need to contact, such as lawn care, irrigation, and security. No matter who is on your list, it's best to contact them as soon as you know your move date. As you visit other businesses throughout the coming months - physicians, vet, schools, gyms, cell phone providers, driver's license bureau, etc. - it's important to update their records with your new address. If you have the time now, it's never a bad idea to call these companies prior to your move.