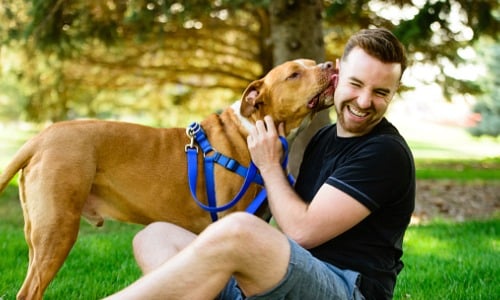 Being a responsible dog owner involves more than cuddles and playtime. It's important to plan and allocate funds wisely to ensure your four-legged companion receives the care and attention they deserve. Learn how to properly budget for dog ownership.


One-Time Costs
When first purchasing your dog, there will be some initial costs to consider:
Adoption or Purchase Fees - Purchasing a dog from a breeder or pet store will be much more expensive than adopting a dog from the animal shelter. Find out how much you want to spend and don't forget to give the shelter animals a chance.
Spaying/Neutering - Getting your new dog spayed or neutered is a one-time fee that can help to save you money down the road. Choosing to spay or neuter your dog can keep them in better health so they can potentially live longer.
Initial Pet Supplies - As soon as you can bring your dog home, you are going to want them to feel comfortable. Being able to spoil your new pup is one of the most fun parts of the process of getting a dog. These initial pet supplies can include:

Food and water bowls - having designated bowls for both is important. Your pup will need access to water constantly
A collar and leash - exercise is so important for your new dog. Having a good collar and leash can allow you to take your dog out on walks!
Doggy Bed - You like to sleep in comfort with lots of pillows and blankets and your dog should be able to too. Find out the best sized bed for your dog so that they can be comfy when they lounge around.
Kennel/Crate - Getting a kennel or crate for your dog can give them a space that is just theirs. It also helps you to be able to house train your new dog and avoid unwanted accidents in your house.
Toys - Getting toys for your new dog gives them something to do, but also gives you the opportunity to interact with them in a fun and playful way. Whether your dog just needs something to chew on or if they would rather play tug-of-war with a huge rope, toys are an important thing to have.
Recurring Costs
After buying everything you will first need when you get your new doggo, it's time to consider what you will have to continuously buy:
Food - Finding out what food is the best for your dog requires thinking of all the factors. What breed is your dog? How big is your dog? How old is your dog? Once you know what you are looking for, make sure you keep in mind what ingredients are the best with the least chemicals.
Vet Visits - Your vet will need doctor's check-ups just like you. A healthy dog should visit the vet about once a year just to make sure everything is normal and to prevent anything from going wrong.
Grooming - Keeping your dog groomed is very important for their skin health. Keeping your dog bathed and cutting their hair if they are long-haired, can help their overall health as well.
Training - If training your dog is something that you don't have time for, sending them to a trainer might be the best bet for you. If you do have the time though, many people are able to completely train their dog on their own for a much lower price.
Pet-Sitting - Now that you have a dog, there is one more thing you will need to take care of when you are away from home: pet-sitting. There is always the option of asking your family to watch for free, but that might not always be an option. Make sure to factor pet-sitting into your trip budgets.
Medicine - Adding some daily medicine into your dog's meals could save you some money on doctor's bills later. Taking medicine to prevent things like heartworms, ticks, fleas, worms, and more are important for your dog's health. Make sure to ask your dog's vet what the best daily medicines would be.
Rent - If you are living in an apartment, there might be an extra monthly charge for your dog that you will need to factor into your budget.
Emergency Pet Fund
Always expect the unexpected when it comes to your dog. Making sure that you have an emergency fund ready for any costs that you weren't expecting is very important.
Medical Costs and Other Urgent Needs - Although nobody wants to think about their dog getting hurt, it is always a possibility. Vet costs can get expensive, especially when they are unexpected. Make sure you have an emergency fund for your dog prepared to take some of the stress off of the rough time.
Time Commitment
Now that you know that you have room in your budget for a dog, make sure that you have room in your schedule. Dogs can take a lot of time and attention and their lifetime could last up to 15 years or more. Being able to give your time to your dog is something that you will need to take into consideration along with the money. Dogs are living things too that will need you to be able to walk with them, play with them, and give them proper care.
Having your new dog in your life will make all of the hassle worth it. And knowing that you have what it takes to provide the best for your dog will give you more time to enjoy your new friend.