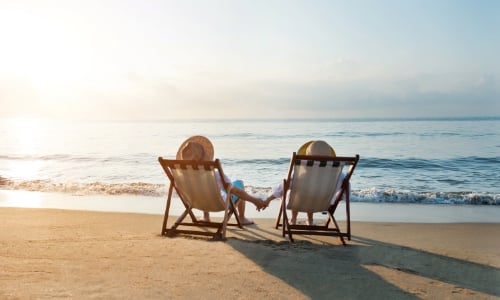 Want to escape the brutal cold of the Midwest or Northeast? Or maybe you're more interested in looking ahead to a spring or summer vacation? Whatever your travel plans may be, there are a few ways to avoid breaking the checking accounts without comprising a stellar trip.
Carolyn Sandgren, president of Elite Travel, told the Southeast Missourian that globetrotters should do one important thing before leaving home: create a budget.
"Have a realistic budget and communicate your budget, and you can almost always save money, because you're not going to go over your budget," she said.
This might entail something small like how much you can afford to spend on breakfast, or it could be something big like the type of lodging you plan to stay at. Whatever it is, budgeting will help you know how much you can afford to spend before leaving for your trip is a smart idea because it could persuade you to lengthen the trip or cut it short.
Don't be afraid to mingle with locals
George Papadopoulos, a financial planner and travel blogger, told U.S. News & World Report that he tries to be open and friendly with locals he meets around town. Whether it be the staff of a hotel or his waiter at dinner, he likes to ask them for their top three things to go see or do.
During a vacation in Quebec, Papadopoulos hit the proverbial jackpot when a local told him he could see Cirque de Soleil free of charge. In Las Vegas, a Cirque de Soleil package could have cost Papadopoulos triple figures, according to the entertainment company's website.

"There was an outdoor show running in the summer and we just happened to be there in the very final show, it was spectacular!" He said.
While you might not get that lucky, asking around never hurts. If you're interested in nightlife, locals can tell you which bars have good deals on particular nights, or which attractions don't come with a heavy entrance fee.
But not everyone is the talkative type, and approaching locals with travel questions might be intimidating. If that's the case, Dan Saltzstein, a travel editor with the New York Times, told MarketWatch travelers should search the Web for free things to do in a particular city before leaving for their destination.
"It works really well for major destinations," Saltzstein said. "You get a quick sense of free activities in a city. My wife and I were going to Glasgow on our way somewhere and did this terrific free tour of a very famous art school given by a student. I don't know if I would have come across that in a guidebook or by asking the concierge at my hotel."
When is the best time to book a flight?
Trying to figure out if waiting a few days to book a flight will have an impact on your wallet? Travel agent Pauline Frommer told MarketWatch the lowest fares tend to go to those who book on a certain day.
While Tuesday has historically been the cheapest day for airfare travel, Frommer said booking on Sunday is now the best time to find cheap airfare. She also said booking a domestic flight 57 days before departure or an international flight 171 days before you want to leave usually provides the most affordable options.
The cheapest days to fly out of your home city can vary, but they are usually during the middle of the week, according to farecompare.com. The site said Tuesday, Wednesday and Saturday are the cheapest days to fly. Fridays and Sundays usually cost the most, as many people book weekend getaways or travel home from business.