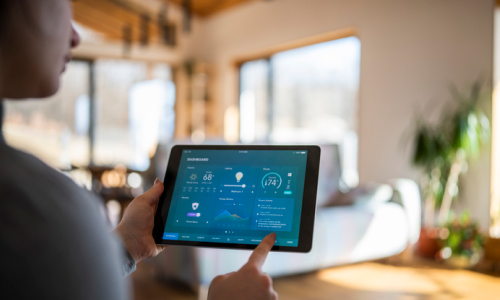 Many smart devices and products can make home management easier. But is it the smart thing to do? Check out the potential benefits of investing to make your home a smart one, and some less expensive ways to lower your bills.
What is a Smart Home?
A smart home is equipped with one or more devices that automate home management tasks, traditionally handled manually. Some of these conveniences might lower your bills, and even reduce your carbon footprint. Newer houses are sometimes built with these features, or homeowners might decide to add in smart products later. A smart home system can control things like lighting, temperature, security, and appliances.
What are Smart Home Products?
Smart home products are usually automated, and most integrate with other smart home devices. Typically, you can control them from an app on your smartphone. Here are a few popular products that exist in the "smart home world."
Outlets – plug into your existing wall outlet, and allow you to control anything plugged into it from an app on your phone.
Lighting – these come in a range of different types, some are LEDs which are more economical. A smart light with timers, motion detectors, and geofencing features offers you the chance to save on your electricity bill by turning off on their own when you forget.
Thermostats – learn how to heat and cool your home, giving it the ability to predict and automate the best temperature for your home.
Window coverings – are motorized shades you can control with an app on your smartphone, or sometimes your voice. You can set a schedule, or integrate it with your smart home automation device.
Security – is hardware to protect your home, and an array of options exist. Such as doors, locks, alarm systems, lighting, motion detectors, and security cameras.
Sprinklers – allow you to turn on or off remotely, schedule watering and length of time, and control how much water is used.
Investment to Get Started
While these products can make things easier around the house, it's certainly an investment. You can count on spending anywhere from $1,000 to $3,500 for the technology to make your home a smart one. There are many different smart home systems and products on the market, but the system components, supplies and labor are key factors to the cost. When it comes to installation, there's a range of cost due to two main reasons:
Type of System Wiring – This is how you set up the smart hardware in your home. Three types of system wiring exist:
Hardwired – experts consider this the most secure and reliable way to install smart home devices in your home. It runs on a more stable connection, and is the least vulnerable to hacking-savvy criminals. However, it can be more complicated and costly to install in an existing home, as opposed to a new build.
Wireless – is the simplest way to install smart home products. You just need an electrical outlet, and connect to your Wi-Fi to get started. While it's easier to install, this type of setup can be more vulnerable for tech-savvy hackers to interfere.
Hybrid – combines wired and wireless technology into one complete system. It basically works with a central cable to connect access points, with a base station for wireless devices.
What You Want to Control – Depending on how in-depth you're planning on getting with your home automation will contribute to the cost. Whether its lighting, security, temperature, home entertainment, or anything else, will determine what type of technology you'll need.
Is a Smart Home Worth the Investment?
Let's get into the numbers. The average home in the U.S. spends roughly $3,052 annually on utilities. You could potentially save anywhere from $100 to $1,000 per year, allowing you to pay off your investment in as little as three years.1
Your electric company may give you money back if you have a smart thermostat. Some electric companies are offering rebates for customers with certified smart thermostat models. Be sure to check with your electricity provider if they offer any sort of rebate or discount on your bill.2
Before making the whole investment and purchasing an advanced setup, consider if a smaller starter kit will satisfy your needs. If you decide you like the functionality of controlling a few lights or appliances, consider if you would benefit from the larger investment. Above all, be sure to evaluate your budget and see if there's room to pay for any technology. It's important to make sure any sort of technology will benefit you in the long run, and make your life easier and more secure.
Less Expensive Ways to Lower your Bills
While you're going over the numbers of a smart home investment, here's a few ways to easily lower your bill.
Change your furnace filters.
Add insulation where needed.
Insulate your pipes.
Seal cracks around your foundation, doors and windows.
Have your furnace checked and services as needed.
Replace weather-stripping around your doors.
Cover your water heater.
Clean gutters to prevent ice dams.
Detach and drain garden hoses and turn off water supply.
While it's a tough decision to convert your home into a smart one, consider running the numbers to see if it's the right move for you. As your financial resource of information, it's important for us to help you understand all your money-saving options. As always, please contact us if there's any way in which we can help you.