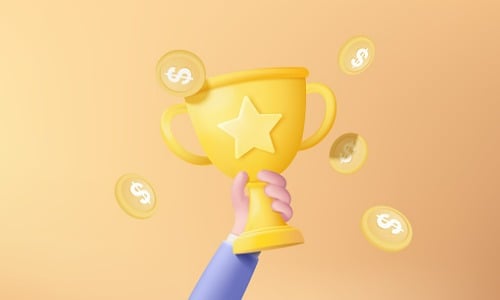 The good news is there are ways to tell you're dealing with a scam. Before you accidently pay a scammer or share your information, learn tips to prevent yourself from falling victim.
How they work:
Who doesn't dream of winning a lot of money or a free vacation? That's why scammers still use the promise of a prize to get your money or personal information.
The person notifying you about your prize sounds so excited and they can't wait for you to get your winnings. But here's what happens next. They say there are fees, taxes, or customs duties to pay. Then they ask for your credit card number or bank account information. Or they ask you to pay with cash, gift cards, wire transfers, or cryptocurrency.
If you pay a scammer or share your personal information, you lose because there is no prize.
How to protect yourself:
Keep your money and your information to yourself
Never share your financial information with someone who contacts you and claims they need it. Also remember to never send anyone cash or pay with gift cards, wire transfers, or cryptocurrency.
Inform a friend
You probably ignore these kinds of scams when you see or hear them. But you might know someone who could use a friendly reminder.
What to know about real contests and prizes:
Many contests are run by reputable marketers and non-profit organizations. But there are some things to know before you drop in a quick entry or follow instructions to claim a prize.
Real sweepstakes are free and by chance
It's illegal to ask you to pay or buy something to enter, or to increase your odds of winning.
Contest promoters might sell your information to advertisers
If you sign up for a contest or a drawing, you're likely to get more promotional mail, telemarketing calls, or spam.
Contest promoters have to tell you certain things
If they call you, the law says they have to tell you that entering is free, what the prizes are, their value, the odds of winning, and how you'd redeem a prize.
Sweepstakes mailings must say you don't have to pay to participate
They also can't claim you're a winner unless you've actually won a prize. If they include a fake check in their mailing, it has to clearly say that it's non-negotiable and has no cash value.
How to report scams:
If you spot a spam, please report it to the Federal Trade Commission at reportfraud.ftc.gov or call the FTC at 1-877-FTC-HELP.