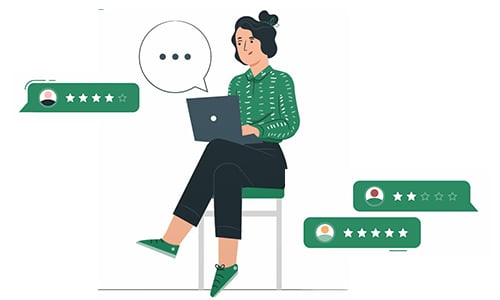 A variety of factors will determine the success or downfall of your business' digital presence. A digital presence is how your business is represented online. Digital factors include your business' website, online ads, social media platforms, as well as online reviews.
An average of 90% of typical U.S. consumers read online reviews. Not only do consumers read reviews, but they take reviews at their word. Upwards of 84% of people trust online reviews as much as a personal recommendation. It's evident your customers and prospective clients value the insights and opinions from online reviews.
Assuming you provide a quality product as well as a great customer experience, your online reviews should manage themselves. Right? Unfortunately, that's not necessarily true. Within a matter of minutes, your brand's reputation can be altered: positively or negatively. One glowing review can increase sales, while one negative review can turn customers away. This brings us to the question: is there anything more important than your company's reputation?
What is a Company Reputation?
A company's reputation serves as the customer's first impression of your business. A reputation impacts how the public perceives your brand. Your reputation is what attracts and retains quality employees as well as loyal customers. Factors that contribute to your company perception would include your company culture, community involvement, marketing materials, social media presence, as well as online reviews. It is essential for the well-being of your business to work to manage your online reputation.
Managing reputation takes more than just listening and responding to consumer reviews and ratings. Consider changing your strategy. Rather than being a reactive brand, be proactive. Keep customers in the loop with any important business updates. For example, if your business is experiencing some shipping delays, consider making an announcement. This will likely prepare customers for the delay and avoid some negative reviews.
The same strategy can apply to current employees and employee candidates. If your company is going through a hiring freeze or a company-wide restructuring, alert the prospective candidates. This may help avoid any negative feedback on your company's hiring methods. Likewise, alert current employees with updates. By refreshing your company's public communication, you will likely keep candidates engaged as well as avoid negative employee reviews.
Reputation Management Tips
So what are practical ways to manage your online representation? Check out these five ways to manage and improve customer reviews:
Claim all your online locations

Customers are posting reviews on a multitude of different websites. It is essential for your business to have a presence on each of these sites. This will allow your business to share better, more relevant information directly to your customers, and improve your brand consistency. Most importantly, presence on these platforms allow you to respond directly. Popular sites customers use include:

Yelp
Trip Advisor
Google +
Four Square

Monitor third-party reviews

It's important to know what your customers are saying – and can help you make good business decisions. A third-party review is content mentioning or "tagging" your brand on a media channel separate from your company website. For example, an individual's social media page, an external blog, review websites, along with other platforms. As a business owner, it is essential to know what people are saying. Read these reviews and, if relevant, adjust your business decisions according to their suggestions and demands. Monitoring third-party reviews can help deliver better client expectations and build loyalty, ultimately driving revenue for your business.

Have an efficient review tracking and reporting process

Now that you're aware of the reviews customers are leaving for your business, how will you track and report the feedback?

Track text analytics
Star rating values
Review volume

What causes your customers to give your business a strong review? Whether you offer a discount for customers leaving a review or enter them in a drawing, keep track of reviews in a format that allows quick action.

Try creating content that pushes for quick response. For example, your promotion could be: "Send in your review within an hour of your purchase and get a 10% discount on your next purchase." This provides a fast response, which will provide your team immediate access to real results. By analyzing the text analytics, star ratings, and review volume, your company will know what features they can strengthen to improve ratings. Once you identify your business' strategy to increase and improve reviews, share your new strategy with your entire company.

Respond to reviews

Brands who respond to reviews quickly and effectively will benefit greatly! Staying on-top of your online presence will keep customers engaged. Alert them of new products, upcoming sales, and even any business operations that will affect them. When a negative review makes its way onto an online platform, your company will be prepared. Turn their bad experience into a positive one! Prove to them how excellent your customer service is and that you are willing and ready to right any wrongs.

Keep reviews fresh

As you collect new reviews, make sure the public is seeing fresh reviews. Have you researched a company before making a purchase and saw an older review from years ago? It doesn't have the same impact as a recent review. Showing that current customers are satisfied with your product will attract more customers.

Actively collect new reviews
Build consumer confidence
More consumers thinking about your brand

Build your consumer's confidence as you publicize reviews that affirm the reputation of your brand. As a result, you will earn more exposure for your business, and attract prospective customers.
Final Steps
Once you begin managing your online presence, the possibilities are endless. Engaging your client base will only serve to increase loyalty and boost revenue. Have any further questions? Don't hesitate to contact your business banker if you need more help.