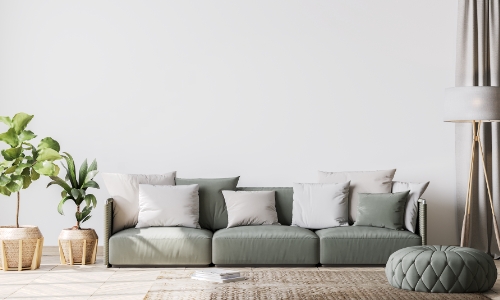 A growing number of American homeowners are looking at ways to boost their income, and one of the top methods is renting out a spare bedroom or extra space to a prospective tenant. Christopher Burns, founder of This and That MBA, a financial health site, told Zillow he's now part of that growing number of spare-room landlords [1].
"At first I thought it would be weird having a tenant upstairs, but we were very selective on whom we chose," Burns said. "[The] first tenants were two college gentlemen out on an internship for a semester. They were great and really kept quiet and were just all around good tenants."
Even if it's not for years or months at a time, homeowners can make a few bucks here and there renting out a spare bedroom for a week or weekend at a time.
But there are a few things every prospective landlord should know. Here are a few tips to consider when renting out a spare room or space.
Make the room feel big
Cathy Hobbs, an interior designer, told ABC News there are a few ways to make a room more marketable to prospective tenants, which can go a long way in boosting the daily or monthly rate for landlords [2].
She said potential landlords should consider getting a professional to take photos for online listings and should also paint the room and remove any clutter to make it appear bigger.
First, the homeowner should repaint the room, Hobbs said. Not only is paint relatively cheap to buy and apply, but it can also help make the room feel brand new.
She added the size of the bed is also important to renters. Anything smaller than a queen will likely limit the amount of interested tenants, so homeowners should pony up for a queen or king size bed to increase interest.
Don't let the competition pass you by
Applying a fresh coat of paint and adding a bigger bed will also keep your rental space in contention with other homeowners who are renting out spare bedrooms. Homeowners who offer spare bedrooms with dingy interiors are less likely to be competitive in the market, Zillow reported.
"When we were living downstairs for four years we updated it so it was really move-in ready for the new people who moved in last August. I refinished those hardwood floors as well to protect them," Burns said.
The kitchen and bathroom are also important spaces, but homeowners who don't want to make major business investments should consider installing new hardware to give those rooms a more contemporary feel, Zillow said.
Filling the room
After an ad has been placed and prospective renters start calling, it's a smart idea to meet with each person individually to see if they would be a good fit in the home. The last thing a homeowner wants is an unruly renter.
Landlords should ask for proof of employment or student status, as well as references, MoneyCrashers said.
After a face-to-face meeting and a reference goes well along with the reference check, the next step is a credit and background check. The source recommended doling out $10 for an Equifax Identity Report, which will give the landlord information if a tenant might be a good fit.
Sources:
[1]. How to Rent Out Your Home as a Side Hustle
[2]. 5 Tips for Renting Out Your Spare Rooms