If you are flipping a house, or getting ready to start looking for a house to flip, think about these six pieces of advice.
1. You need a budget with some wiggle room
When flipping a house you have to remember that you are not only purchasing a new house, but paying for the homeowners insurance, taxes, utilities, and financing the renovations as well. Within your budget, you also need to find out what wiggle room you have in case something unforeseen comes along, like a fault in the housing line or mold in the basement.
2. Know your market
Be aware of the potential buyer looking in your flip-house's neighborhood. Is the neighborhood in a good school district for young families, or is it a community more popular for retirees [1]? If the target audience is older generations, buy and flip a house with their needs in mind. Look for a house with one single floor plan, and few to no steps getting to the front door of the house. Be sure to know the recent sales and average days on the market other homes in the neighborhood are selling for so you don't over or under price your flip.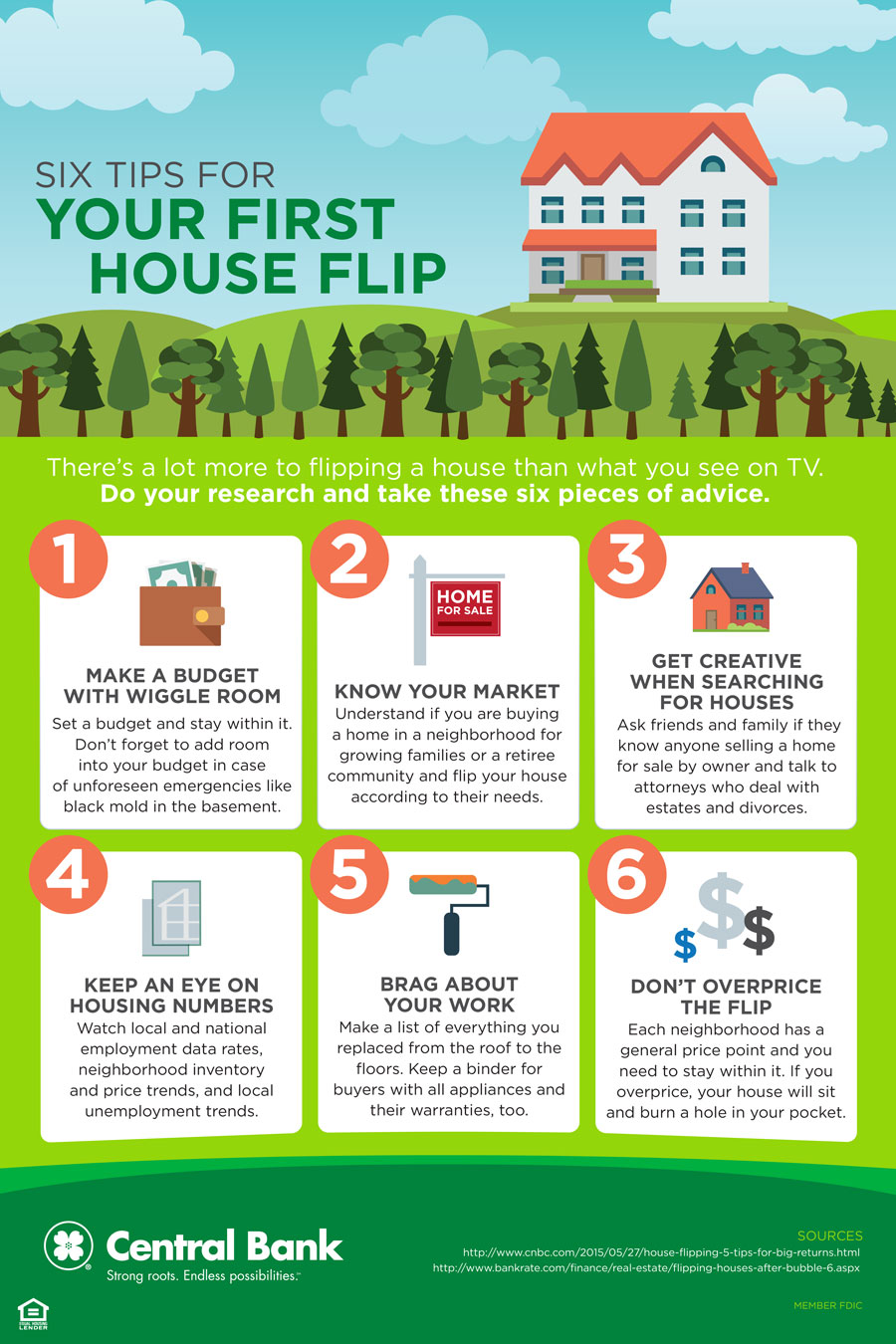 3. Get creative when searching for the right house
The market for flipping houses is still doing well, but great flipping opportunities are becoming harder to find. Try talking to friends and family, asking if they know anyone or have any neighbors that are trying to sell by owner. You can also network with attorneys who work with estates and divorces to help find a fair priced house to flip [2].
4. Keep track of the housing numbers
To make sure that you make a profit and don't get cut short when selling your flip, you need to watch data on trends that could affect the selling market. Bankrate says one way to protect yourself, or at least keep your eyes open, is to make a serious effort to track some key numbers. Watching both local and national data on employment rates, interest rates, neighborhood inventory levels, neighborhood price trends, and metro and county unemployment trends. It's also good to be aware of major job or business closing announcements [2].
5. Brag about what you did
You worked hard and spent your hard-earned money making the house into what it is now. Make a list of everything that you replaced. Take a picture of the new roof, let buyers know which windows are new, and give details of which appliances you replaced and include their warranties in a binder to flip through [1]. Make sure your potential buyers know what you did to bring the older house with charm up to date with today's technology.
6. Make a profit, but don't overprice your flip
It's easy to want to list your flip at a higher price. After all, you put your blood, sweat, and tears into this project. Remember that potential buyers didn't see the medicine-pink bathroom fixtures or experience the funky smell in the basement. They only see what the finished product is, and what other homes in the surrounding market look like and what they are listed at. Each neighborhood has a general price point, and you, as the seller, need to stay within that [2]. If you overprice, your flip could sit for months and burn a hole in your wallet, taking away extra profit from you.
Sources:
[1] House flipping: tips for big returns, CNBC
[2] 5 tips for flipping houses after the bubble, Bankrate