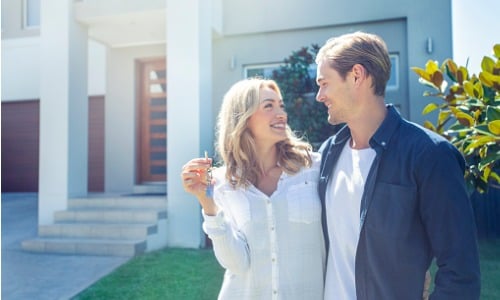 Congratulations! This is a fun season of life – you're engaged or recently married, and now you're house shopping! Here's what you need to know when it comes to house-hunting for newlyweds, especially in a seller's market.
Work with a Buyer's Realtor
A buyer's realtor represents and acts on behalf of you, the client. From guiding you through the home-buying process, to helping negotiate the sale. When searching for an agent, be sure to ask how they get paid. Some realtors don't receive a paycheck unless you close on a home, so they may be more motivated to help you find the right house.
Changing your Name?
You may want to have your name changed before signing any mortgage documents. That way, you won't need to go through the steps of updating your name on different documents. If you're considering changing your name, it can seem like an undertaking. Whether you've started the name-changing process or not, you'll need your marriage license and certified copies. To save time on mailing, ask if you can purchase your certified copies at the same time as applying for your marriage license.
Consider Writing a Letter
If you're working with a realtor, ask if you can include a letter to the seller with any potential offers. Share what you like about the home in the letter, and put yourself in the seller's shoes. You'll want to keep the length of the letter short (they may not feel like reading a novel), and avoid including any remodeling plans. Otherwise, stay positive, upbeat, and be sure to proofread!
Get Prequalified
Before you can jump on a house, you'll need to be prequalified. Many sellers don't even allow showings unless you have a letter showing you're prequalified. This letter includes an estimated amount of money you'll receive to put toward your new house. When getting prequalified, you both will fill out your information and your credit will be checked.
Above all, remember timing is everything. Trying to navigate the housing market can be emotional, but don't give up! Just like your new love, you'll know when the right one comes along.
Is it time to get your new house? You can easily apply online by visiting our Mortgage Center, and we'll start your home-buying journey, together.