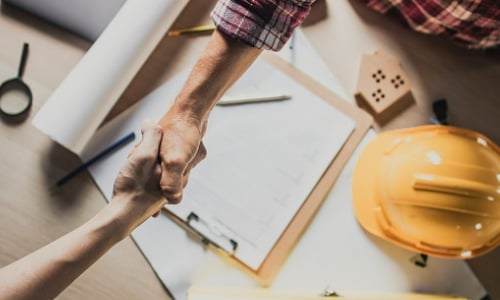 It can be overwhelming to hire a contractor because it requires research, planning, and can be an expensive cost. Check out these tips for finding a contractor to make your dream home come to life (and saving your wallet).

Selecting your contractor:

Read reviews, use references, and view a contractor's credentials. The contractor you'll want to hire should have experience, expertise, the necessary permits and licenses. They should also be trustworthy, skilled, and experienced.
Make sure to ask yourself necessary questions before choosing a contractor. Such as:
Are they licensed? Many states require contractors to be licensed and others do not
Do they have insurance? What kind of coverage do they offer
When will they be able to start? Most skilled and experienced contractors have a full schedule. Make sure they agree to complete your project by the given deadline.
Prepare for the Cost:

Evaluate the cost of working with a contractor. When your contractor sends you a quote, know it is common to negotiate. This shows contractors you know what you want, and they are less likely to take advantage of you. Before the contractor starts their work, discuss payment options. If your contractor is doing a smaller project on your home, such as a renovation, use a check or credit card for payment. For a larger project, such as building a new home, arrange a financing option. Every contractor is different, however there are two basic options for payment.

Cost plus flat fee: This option will lay out estimated costs at each stage and allows for flexibility. Your contractor will charge an agreed upon management coordination fee. This option should match the total costs unless you run into problems during the project, therefore this option could make estimating the final cost difficult.
Bid basis: This option is when you and your contractor make a budget for the project and choose a payment schedule. If you are running on a tight budget, this is a good option for you.

Do not pay for the entire project until it is completed. If you choose to pay with a check, only address it to a company and not an individual. It is also important to be aware of contractors' busy season, which is usually during warmer months. During this time, contractors' prices may be higher because their job demand has increased. Be prepared to pay more for a contractor during this time.

Be Clear about your Budget:

Be clear with your contractor about your budget. Make sure you and your contractor understand your budget and plan for the cost of materials. Be aware of upselling, a good contractor will meet you at your budget, not try to upsell for more expensive materials. Materials such as countertops, cabinets, and flooring have different material grades and varying costs. Don't pay for high grade materials, if you didn't ask for them, as noticeable differences usually aren't drastic. Prepare for the cost of materials as the cost of building materials rises. Also be sure to plan what materials you'll need and if they are in stock, or if you'll need to go with a more expensive alternative.



Establish a Contract:


Make sure to secure a clear contract with your contractor before work on your home begins. Your contract should include:

A description of the work the contractor will complete and the price of each item
An estimated start and end date of the project
Guarantees which state what is guaranteed, who is responsible, and how long the guarantee is valid.
Signatures from both parties

You should keep your contract and any other supporting documents together in a file. This may include, change orders, plans, bills and invoices, checks, or insurance certificates.



If you Need to File a Report:

In the event you have a negative experience with the contractor you chose, there are actions you can take. Unfortunately, being unhappy with your contractor's work is common. The first step you should take is having a conversation with them. Sit down with them and make sure you are reasonable and tactful in a nice manner. If your contractor refuses to compromise with you, you have the right to report a contractor, make a claim with their Surety Bond, or the contractor's state license board.