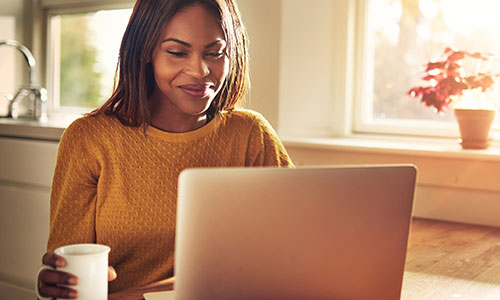 As online shopping increases, so does the chance of encountering online fraud. It's always important to protect yourself, but what steps are the most effective? Check out these seven ways to prevent, identify, and fight online scammers before you start shopping online.
Watch out for the 'Too Good To Be True' Scam
If you're shopping online and find that one specific item for a price that seems too good to be true, chances are it's scam. Online scammers pick popular items and list them at discount prices to lure in customers. A customer thinks they're getting a deal, when really they are providing someone with their payment information. Always check the website URL for misspellings and look for secure checkouts when finalizing your purchase.
Consider using a credit card instead of a debit card
Credit cards provide increased security for online shopping compared to debit cards. Today's EMV Chip technology in payment cards makes them harder for scammers to steal your information. Plus, credit cards aren't tied directly to your bank accounts like a debit card. If someone stole your debit card information, they have an easier way to quickly access your bank accounts, since the money in your account is tied directly to your debit card. Credit cards can offer more consumer protection through fraud protection, but just be sure to stay atop your credit score.
Check out as a guest when possible
Most online checkouts will ask you to sign up for an account or allow you to check out as a guest. When you create an account, the website can store your personal and purchase information on the websites' internal server. While not common, if that company experiences a data breach, then your saved information could be at risk. Checking out as a guest eliminates this possibility because the retailer does not permanently save your information. If reward points and perks are important to you, then consider the risks of creating an account with the online retailer.
Don't use the same password for every account
It's always said, but it needs to be said again – do not use the same password for every online account. Once an online scammer figures out one password, then it's easy for them to turn around and try it on all of your accounts. If you had one password for every account then you just gave the scammer free access to all of your information. Using different passwords prevents you from falling victim to these practices. Also, don't worry if you have a hard time remembering all of your passwords. Most retailers now have that capability to instantly verify your identity so you can quickly reset your password each time you sign in.
Research new and sketchy websites
Let's say you find that perfect gift online but it's on a website in which you've never purchased anything. It's always best to research the website before making a final purchase. Today's scammers create mock websites that are almost identical to online retailer websites, all with the intent to confuse you and steal your information. Always check the website URL to make sure it's not misspelled. Also, a good rule of thumb is to do a quick online search. If other customers have fallen for online traps, then chances are likely someone wrote a review online about their experience. A little research could potentially save you money and heartache.
Monitor your accounts using automatic alerts
Check to see what alert options are available for your credit and debit cards. You can often set different alerts that quickly notify you via text message or email when something is detected. Alerts can range from transaction amounts, to frequency of charges, and even location of purchases. To learn more about Central Bank's automatic alerts, check out our personal account and card alerts available through Online Banking.
Use fraud-detecting technology with your checking account
Consider utilizing a credit monitoring and fraud detecting service to keep an extra eye on your online purchases. Some checking accounts can come with the tools to protect yourself, such as identity theft monitoring and resolution services, alerts of changes to your credit report, and access to your credit score. Our MaxMoney® checking account comes with many financial features you expect and the peace of mind knowing your information is safe.
As always, we're here to help. If you believe you've fallen victim to online fraud, then please contact us at (866) 236-8744. We take your security seriously, and will investigate immediately.