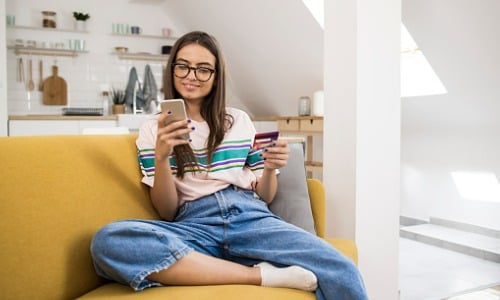 As summer rolls around and the school year comes to an end, it is likely your teen will find a summer job. It's important for your child to learn about financial responsibility and the benefits of having their own bank account. Not only will it teach them valuable skills for the future, but it will also provide a safe and secure place to store their hard-earned cash.

Helping your child understand how to save and spend money responsibly can be a valuable lesson they will carry with them for the rest of their lives. Check out these tips when setting up an account for your teen:
Set up a bank account

Before you begin the account opening process, it's important to do your research and compare different account options. Your customer service representative can guide you in the direction for the best account. Start with a checking account for daily spending, and a savings account for future goals.

Depending on how old your teen is, you may have to be a signer or joint account holder on the account. Finding a good balance of supervision and independence can be helpful while they learn about spending habits.

Gather Required Documentation

To open a bank account, your teen will need to provide certain documentation, such as a government-issued ID, proof of address, and a social security number. Be sure to gather all necessary documents before heading to a branch location or filling out an application online.

Talk to Your Teen About Financial Responsibility and Safety

Responsibility: It's important for your teen to understand responsibilities that come with having their own bank account. Talk to them about how to manage their money, including budgeting, saving, and avoiding overspending. Make sure they know the importance of keeping track of their transactions and monitoring their account balance regularly. This can open the door to discuss their short and long-term goals.


Short-term goals are what they want to accomplish in the near future, typically within 12 months or less. For example, buying electronics or games, paying a cell phone bill, clothing, gas, or funding a new hobby.
Long-term goals are usually achieved in the next five or more years. Including buying a car, saving for college, putting funds away for a trip, or starting their own business.


Have your teen consider what their highest priority is, and how they can accomplish it. Anytime your teen receives money, whether it's from their job, allowances, or gifts, encourage them to "pay themselves first."

Safety: Teens are especially vulnerable to fraud and identity theft, making it very important that you educate your child on the importance of financial safety. It is smart to monitor your child's account in case of emergencies such as a lost or stolen card, those accounts can be accessed.

Set Up Online Banking

Many banks offer online banking options and have mobile apps, which can be a convenient way for your teen to monitor their account, make transfers, and pay bills. Be sure to set up online banking with your teen and teach them how to use it effectively.
Setting up a bank account for your working teen is an important step in their financial education. At Central Bank, you and your teen can enjoy great customer service, security and fraud protection, and the latest tools within Online Banking and the Mobile Banking App. Open an account online or visit one of our convenient locations today.