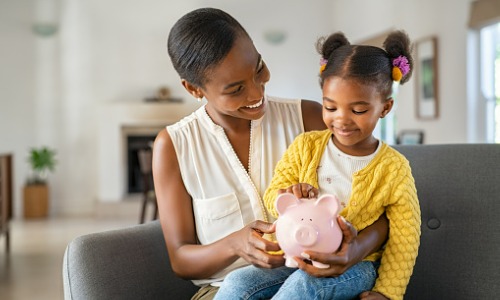 How soon is too soon to talk to your kids about money? If they're old enough to ask for a toy or bike, they're old enough to start learning financial lessons that will last a lifetime!
Teaching children to save money is an important life lesson that can help them develop good financial habits for the future. By following these tips, you can help your child develop good financial habits and set them on a path to financial success.
Preschool-2nd Grade
College Fund
Money Over Gifts
Ask your relatives to contribute to a college fund instead of giving toys.
Wants and Needs
When it comes to saving and spending money, you always have a choice. Teaching your child the difference between wants and needs can play a big role in helping save money.
Use these coloring pages from the American Bankers Association to teach your child about the difference between wants and needs!
3rd-5th Grade
Visit the Bank
Take your kids to the bank to gain an understanding of depositing money and making basic transactions.
Ask your bank if they have a kids club. Central Bank's Dollar Bill Kids Club teaches kids how to save. These clubs may offer rewards or prizes if your child makes a certain number of deposits to their savings account.
Allowances
Show the Different Ways Money Can be Used
6th-8th Grade
Simple Job

Help your kids find simple jobs, such as babysitting or car washing, to start earning and saving money.

Use Real-Life Examples

Take your kids to the grocery store. Have them help make decisions about what to buy based on your budget.
Include your children when planning finances that involve them so they can learn how to make sound financial decisions.
9th-10th Grade
Savings and Spending Plan
Plan Ahead
11th-12th Grade
Educate

Talk to your teen about credit and avoiding identity theft. They should understand the implications of accumulating debt and aim to pay off their monthly balance in full.
Help your teen learn about scholarships, investments and funding plans now so they're better prepared to make decisions on what college, trade school or university to attend.

Money Over Gifts

Ask relatives and friends to contribute to a savings fund as a high school graduation gift.
Teaching children to save money takes time and effort, but the lessons they learn will stay with them for a lifetime. If you're ready to open a bank account for your child, you can enjoy great customer service, security and fraud protection, and the latest tools within Online Banking and the Mobile Banking App with Central Bank. Open an account online or visit one of our convenient locations today!