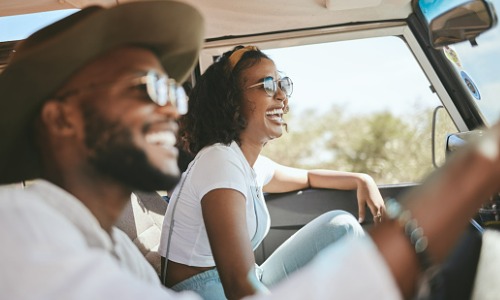 Road tripping on a budget can be a fun and exciting way to explore new places without breaking the bank. With careful planning and a few simple strategies, you can enjoy a memorable road trip without overspending.
Plan Ahead

Before you hit the road, plan your route carefully. If you're planning on going alone, consider bringing your friends or family members with you. Road tripping with other people can help cut the costs on gas, food, and lodging. When it comes to splitting costs, use Zelle to easily send money to your friends and family.

Set Your Budget

Without a clear understanding of your expected expenses, it's difficult to cut costs and save money. As you are planning your trip, consider your budget for the following areas:

Gas
Where you'll stay
Food and drink
Entertainment
Parking and tolls
Other (set a small budget aside for unexpected costs)

Choose Affordable Lodging

Look for affordable places to stay and avoid expensive hotels. If you're looking for a hotel, try to pick one with a free continental breakfast and make reservations ahead of time. You can also consider camping or staying with friends and family.

Check Your Vehicle

Before you hit the road, make sure you have your car checked over by a mechanic or dealership. Get an oil change, have the tires rotated and pressure checked, top off the fluids and make sure your windshield wipers are in good shape. Getting your car checked before you leave can prevent stress and costly roadside repairs.

Pack Food and Drinks

To avoid overspending on roadside meals, bottled water, and frequent cups of coffee, pack food and drinks. Stock up at your local grocery store and bring a cooler to keep everything fresh.

Save on Gas

Gas can be a major expense on a road trip, but there are apps that can help you find the cheapest gas prices along your route. Some popular apps include GasBuddy and Waze.

A road trip offers the perfect opportunity to redeem your fuel points. If you have some time before you hit the road take advantage of accumulating your fuel points.

Check out Central Bank's MaxMoney Checking Account to receive a gas card as well as many other perks.

Use Cruise Control

In addition to making long stretches on the highway more comfortable, did you know that cruise control can also help you save on gas? Utilize it whenever possible to reduce your fuel consumption and save some money in the process.

Get a National Parks Pass

If your road trip itinerary includes more than two national parks or national monuments, consider purchasing a National Park Pass. This can be a great way for reducing the cost of entrance fees and saving money during your trip.

Find Activities at no cost

No matter where your road trip may take you, there are plenty of activities you can find at no cost. National parks, hiking trails, scenic drives, and roadside attractions can offer incredible experiences without any cost. Additionally, look for discounts and coupons for attractions and restaurants along your route.
With some planning and budgeting, a road trip can be an affordable and enjoyable adventure. Personalize your next trip with assistance from experienced professionals at Central Travel.