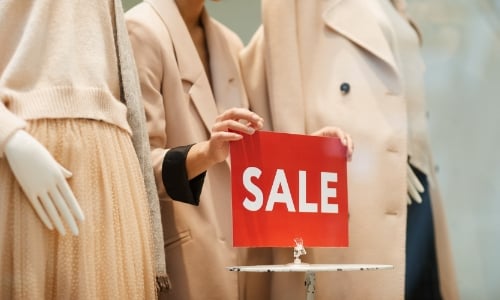 Offer Top-Notch Customer Service
Customer service is one of the largest differentiators that will make customers choose your store over competitors. Microsoft reports "upwards of 90 percent of Americans view customer service as a factor in deciding whether or not to do business with a company."
After the holiday season, returns and exchanges will happen often, which will have a major impact on your overall service. This is often an unenjoyable task for customers, so work to establish unified customer service standards to keep customers returning in the future.
Make sure to train your staff on the proper protocols for returns and exchanges to ensure the process is seamless. Lastly, consider checking-in with any seasonal hires who may want to stay long-term with your business. They may need encouragement to change their mindset and productivity from seasonal work to a full-time employee.
Optimizing the return process also means addressing your website. How well does your website communicate the steps to return purchases? By featuring web pages that outline each step of your return and exchange process, you can reduce phone calls and save your business time.
Consider having customer service information located at the bottom of each web page for quick access. It could also be necessary to incorporate a frequently asked questions page on your website. Lastly, evaluate how well customers are interacting with your website. Check your website analytics and see what you can improve. Your business' digital marketing can provide excellent communications to create deeper relationships with your target market.
It's also important to remember large amounts of customer service take place digitally. It may be time to consider how effective your business' digital presence is, and to evaluate how to attract new customers through the power of your online customer service. Consider updating your website, social media content, and emails to be more mobile-friendly. Then, you can use these communication channels to promote your after-the-holidays sales to customers looking for a good deal.
Pursue a Strong Digital Marketing Presence
Regardless of budget, your small business can implement an effective marketing strategy to grab a customer's attention. The key is consistency and quality. Even after the holidays, you can keep your customers coming back by reminding them how valuable your products are. Personalize your advertisements and offer exclusive promotions to keep your clients engaged.
Consider emailing customers about these promotions to encourage them to visit your store or website. Consider making weekly posts about new products, services, sales, or promotions that could peak a customer's interest. No matter the media platform, when you post quality and intriguing content, customers will continue to remember your brand.
When communicating with your customer base, try publishing a variety of content. Consumers expect brands to create content in addition to providing products. Content creation is publishing material not intended to sell a certain product. In fact, this content is designed to educate or stimulate interest in your products or services for consumers. Your small business could publish articles or create video content about topics to benefit your target audience.
Be sure to fully research and fact-check before posting any content. In addition, it's important your published content aligns with your business industry. Customers will appreciate you providing quality content that is free of advertisements. By publishing relevant content, consumers can see your brand as trustworthy, eventually turning into customer loyalty which benefits your brand long-term.
Embrace User-Generated Content
User-generated content (UGC) can include images, videos, or text featuring your product or service, but is not created by your employees. One of the most popular examples of UGC comes from coffee-lovers. Many coffee shops offer seasonal cups and themed drinks. Customers adore these festive efforts and often post about their coffee experience. Remember the popular trend of coffee drinkers posting pictures of their misspelled names? These images include the scribbled misspelled name on the side of their to-go cup. The coffee shop did not initially post these images; however, it can use the photos for future advertising.
User-generated content is a great form of organic marketing that may benefit your business. One way to collect this content is by creating standard hashtags for your products. Encourage customers to post photos of them with their newest gift from your shop. Offer a product give-away or discount for participating customers. A budget-friendly way to stimulate UGC is placing a festive sign or photo backdrop outside of your store.
If you have an atheistically pleasing sign or selfie destination – featuring the name of your business! – customers may post this on their social media. Consider making a New Year's resolution bulletin board to help customers interact with your store. Customers desire an experience! A fun and memorable shopping experience will inspire customers to share UGC.
User-generated content is the newest form of word-of-mouth advertising. Social media has only empowered it! Be sure to feature this content on your business' social media platforms. Customers are attracted to genuine advertisements. There is nothing more genuine than real customers enjoying your product.
Adjust Prices for Weary Shoppers
For the weary in shopping spirit, it may be beneficial to lower prices of certain products. The key to offering the best prices lies in Christmas past. Learn from the successes and failures of past sales and promotions. How can your business offer the best sales to increase profitability? Before lowering your prices, be sure to check-in on your competition. How are they pricing their products? Can your store offer a better price? Even if your small business cannot outdo the competition's price, your business can outdo the competition in advertisements. Well-timed and well-place promotions are key. Promote post-holiday deals within the store as well as on social media and email.
Now that the customers are prepared for holiday deals, ensure your staff are ready. As the holidays come to an end, provide clear instructions to employees about product mark-downs and discounts. There is nothing more frustrating than thinking an item is on sale when it was just misplaced or incorrectly marked.
To avoid this confusion, encourage employees to keep the store well-organized and up-to-date. Your website may also need some light maintenance after the busy season. Be sure to update your website to remove out-of-stock items and discount the unneeded inventory. With simple steps of preparation, your business' after-the-holiday sales will be a success!