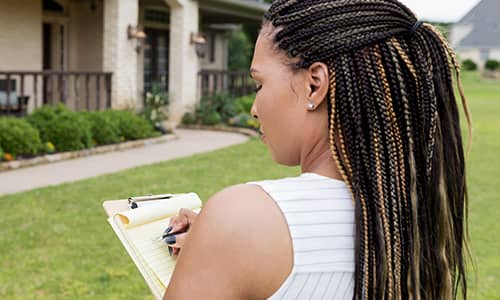 After you've made an offer and signed a purchase agreement, the lender will order the home appraisal. A home appraisal is a licensed or certified appraiser's opinion of a home's value and typically costs about $500. The appraisal is based on research of recent sales of comparable homes in the area, an analysis of the property and the appraiser's judgment.1
Lenders require a home appraisal to make sure that the investment is enough of a Return on Investment (ROI). The property serves as collateral for the mortgage, so if the borrower defaults and goes into foreclosure, the lender will sell the home to recoup the money lent.2
What do home appraisers look for?
Neighborhood characteristics
Local housing market trends
Sale prices of comparable homes, recently sold in the area
Lot and home size
Age and design of the home
Condition of the home
Appliances
Amenities, such as fireplaces or decks
Home improvements and renovations
What homebuyers should know:
The appraisal is the one of the first steps in the closing process. If the home is appraised at or above the contract price, then the sale will continue. If the appraisal is below the contract price, the buyer and seller will have an opportunity to renegotiate. If both parties come to an agreement, the sale can continue. If both parties don't come to an agreement, the sale may not go through.
A low appraisal can serve as a negotiating tool to convince the seller to lower the price. The bank won't lend you or any other prospective buyer more than the home is worth.
You may need a second opinion from another appraiser in order to come to an agreement on price. Keep in mind, the appraisal is part of the closing costs, so you may end up spending more to get a second opinion.
What home sellers should know:
If the appraisal is accurate and lower than you expected, you may need to lower the price.
Your home could have been appraised low because of the other homes in your neighborhood. If your home is in significantly better condition than others in the area, you may need to convince the appraiser that it's worth more money.
Work with your real estate agent to create a document with all relevant information for the appraiser, in order to get the most accurate price for your home. If you just put in a new furnace or got a new roof, be sure to mention that information.
Your refinancer wants to know that you have sufficient equity in your home, and that you don't owe more money than what the home is worth.
Prepare documentation of any upgrades you have done to your home to get the best price when refinancing.
Preparation and preparedness are key to getting the best home appraisal possible. Have an idea of what your home is worth and give any documentation of upgrades to the appraiser. Home buyers – hope the appraisal goes well and enjoy your new home!
Sources:
1How a Home Appraisal Works, NerdWallet
2What You Should Know About Home Appraisals, Investopedia