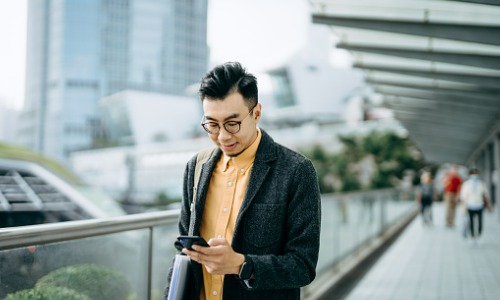 With Central Bank's Online Banking, you can make transfers, pay bills, create a budget and manage your statements virtually from anywhere. Who would have thought banking would be so easy. Another easy way to manage your funds is through text message banking. Text banking is the quickest way to connect to your account.
You text your friends and family, so why not your bank, too? Text message banking is an easy way to stay informed on your account quickly. Whether you're waiting in the checkout line at the store and want to see your account balances, or want a quick check-in of your recent transaction, use your mobile phone's texting capabilities to receive account information.
Below is a list of text commands, which you can use anytime to stay up to date with your accounts. Text 83318 with any of the commands to start using Central Bank's Text Banking.
B or BAL- Receive a summary of available balances for all of your accounts. You'll receive a list of all your Central Bank accounts and the balances, including checking, savings, and credit card or loan balances.
H or HIST- View a summary of recent transactions for any of your accounts. If you have multiple accounts, you'll choose and respond with which account you'd like to view recent transaction history for.
C or CHANGE- If you are enrolled for Text Banking at multiple banks, this command changes the market bank you are using.
MENU- View a display of commands in case you forget.
STOP- Texting STOP deactivates all services tied to your phone number (i.e. Text Banking and Alerts) across all affiliate banks.
Here is how to enroll in *Text Banking:
Log into your online banking account
Select "Additional Services" and choose "Text Banking" in the drop down menu
Enter your mobile phone number and select "Enroll"
To begin using text banking, simply text 83318 for your account balance and activity and we'll reply in seconds. To set up email or text alerts, select the "Accounts" tab and click "Manage Alerts"
Tip: Make it easy on yourself and save our number as a contact so you can quickly manage your account.

*Mobile carrier data and text rates may apply.