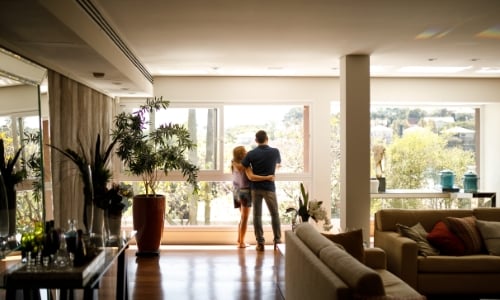 It's always important for couples to act together when making any major purchases, but it's especially important to communicate and convey solidarity when buying a home.
The home buying experience should be one of excitement and thrill, not one of hostility and anxiety. In order to avoid tension, Justin Newmark, a psychologist and co-president of the Psychoanalytic Couple & Family Institute of New England, told The Boston Globe couples should try to work cohesively when buying a home [1]. He said it's important each person participates in the buying experience.
"When you buy a house - I see this a lot - each person has to be onboard with the ultimate decision," Newmark said. "If one person is not onboard, they never have a sense of ownership."
But it's not always easy.
One person might prefer a spacious ranch in a rural environment, while the other might want to live in a loft in an urban area. Trulia recommended couples make a list of "must haves" and "nice to haves" in order to gauge the most important aspects of a home purchase. Each person in the relationship might have to compromise a bit when it comes to finding the right home, but communicating and figuring out important details before starting a house hunt can save time and keep both parties on track.
Consider signing a contract
Married couples tend to have it a bit easier than unmarried couples when buying a home, and the numbers show most home purchases come from married couples. Data from the National Association of Realtors showed married couples made up 61.6 percent of all buyers from 2001 to 2011, while unmarried couples accounted for 7.5 percent of all buyers during that same span.
But whatever the situation, couples might want to consider signing a contract before making a home purchase or contacting a bank about a mortgage loan. The Globe stated partners should ask an attorney to create a purchase contract before any property is purchased [2]. The pact should give each person involved a strong idea of how much money both parties will contribute and should state who will pay for maintenance fees and other costs if they aren't being split down the middle.
''It has to be very clear who is putting the money in, who is going to do the improvements, so they have a good understanding of ownership,'' Monica Rebella, a certified public accountant, told the Globe.
Jordan Clarke, a real estate agent in San Diego, said preparing for the worst is never a bad idea.
''Many different things can happen after the relationship dissolves,'' Clarke told The Boston Globe. ''It's much better to think about it when heads are cool and everything is great in a relationship.''
Couples should talk about renovations and investments before buying
Deciding on a home and how it's financed can be difficult as it is, but couples should also consider any potential renovation plans before making a move and communicate accordingly.
Rebekah Welch told the Globe she found herself in a situation where she wanted to renovate their Victorian-style home while her husband, Kyle, hoped to avoid fixing it up.
"I saw tin ceilings and stained glass," she said. "I saw all of the potential that was there, but I was naïve about the amount of work it would require and the cost of it and how little Kyle enjoys that kind of thing."
It didn't take long for Rebekah Welch to realize - like Kyle - that all renovations would be a bit too much work. So instead, the couple completed a few small renovations and sold the home in lieu of a property that better fit their needs. She said she was more realistic in their second home purchase and both like the new house more than the previous one.
Sources:
[1]. Mine field: Advice on buying a home together
[2]. Tips for unmarried couple buying a house