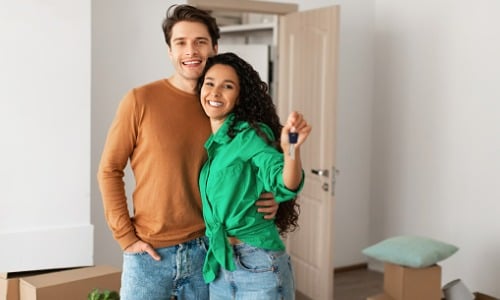 Congratulations on becoming a new homeowner! Owning a home is an exciting adventure, but it also comes with a lot of responsibilities. To make sure you start off on the right foot, use this checklist to help you keep track of everything you need to do as you move into your new home.
One of the first things you should do after moving into your new home is change the locks. You never know who may have a copy of the old keys, so it's better safe than sorry. Install new deadbolts and door locks to ensure the security of your home.
Making arrangements for setting up utilities in your new home should be a priority. If you're a first-time homeowner, you may be unsure about how to start the process of setting up your utilities. However, the first step is to identify your utility provider. Depending on your location, the utilities at your new home may be different from your previous address.
Homeowners insurance is a must-have for any homeowner. It will protect your home and belongings in case of theft, fire, or natural disasters.
When purchasing homeowner's insurance, it's important to shop around and compare policies from different insurance providers. Look for a policy that provides adequate coverage for your home and personal belongings at a reasonable price. Consider factors like deductibles, coverage limits, and additional coverage options.
Don't forget to change your address with the post office, your banks, credit cards, and other important accounts. You don't want to miss any important mail or bills.
Smoke and carbon monoxide detectors are an essential safety feature in your home. Test them to make sure they are functioning correctly. If there is a problem, get them checked out right away. Also, there are smart smoke and carbon monoxide detectors that integrate with your phone and smart home, so you can easily keep tabs.
The crawl space and attic are both areas that are out of sight and out of mind for many homeowners. However, neglecting these areas can lead to serious issues down the line. Keep an eye out for signs of moisture, pests, insulation issues, and structural damage.
As part of the homebuying process, you likely had a home inspection before closing. However, it's always a good idea to check your home for leaks as soon as possible, especially after it rains. Look for any signs of water damage, such as stains on the ceiling or walls, or musty smells. Check under the sinks and around the toilets for any leaks. If you find any issues, hire a plumber to fix them before they turn into bigger problems.
Take some time to learn about your home's systems, such as the heating and cooling system, electrical system, and plumbing. This will help you identify any potential problems early on and prevent costly repairs.
Cleaning your gutters is an important part of home maintenance. Make sure your gutters are clear of leaves and debris to prevent water damage.
Maybe you don't have a home yet but are thinking of starting the mortgage process soon. Central Bank has many loan options to choose from. With a minimal down payment and a competitive interest rate, you'll be a homeowner in no time!