If you're reading this, you're probably considering buying a home in the near future and that's very exciting. Purchasing your first home comes with many questions. Learn solutions to questions you might have to make your home buying experience smoother and less stressful.
What are the advantages of buying vs. renting?
Purchasing a home offers many advantages compared to renting. The interest paid on your home can often be tax-deductible, providing a significant financial benefit. And of course, there is a sense of pride and accomplishment that comes with homeownership, marking a major life milestone! Unlike renting, buying a home allows you to build equity, rather than simply contributing to someone else's investment.
SHOULD YOU CONTINUE TO RENT OR BUY?
How do I determine my price range?
For first-time homebuyers, it's important to start by consulting a loan officer. This allows for a personalized discussion of your options, completion of an application, assessment of your income, and credit report review. This ensures you're looking at homes within your budget right from the start. Without knowing your exact price range, there's a chance you'll fall in love with a home you can't afford.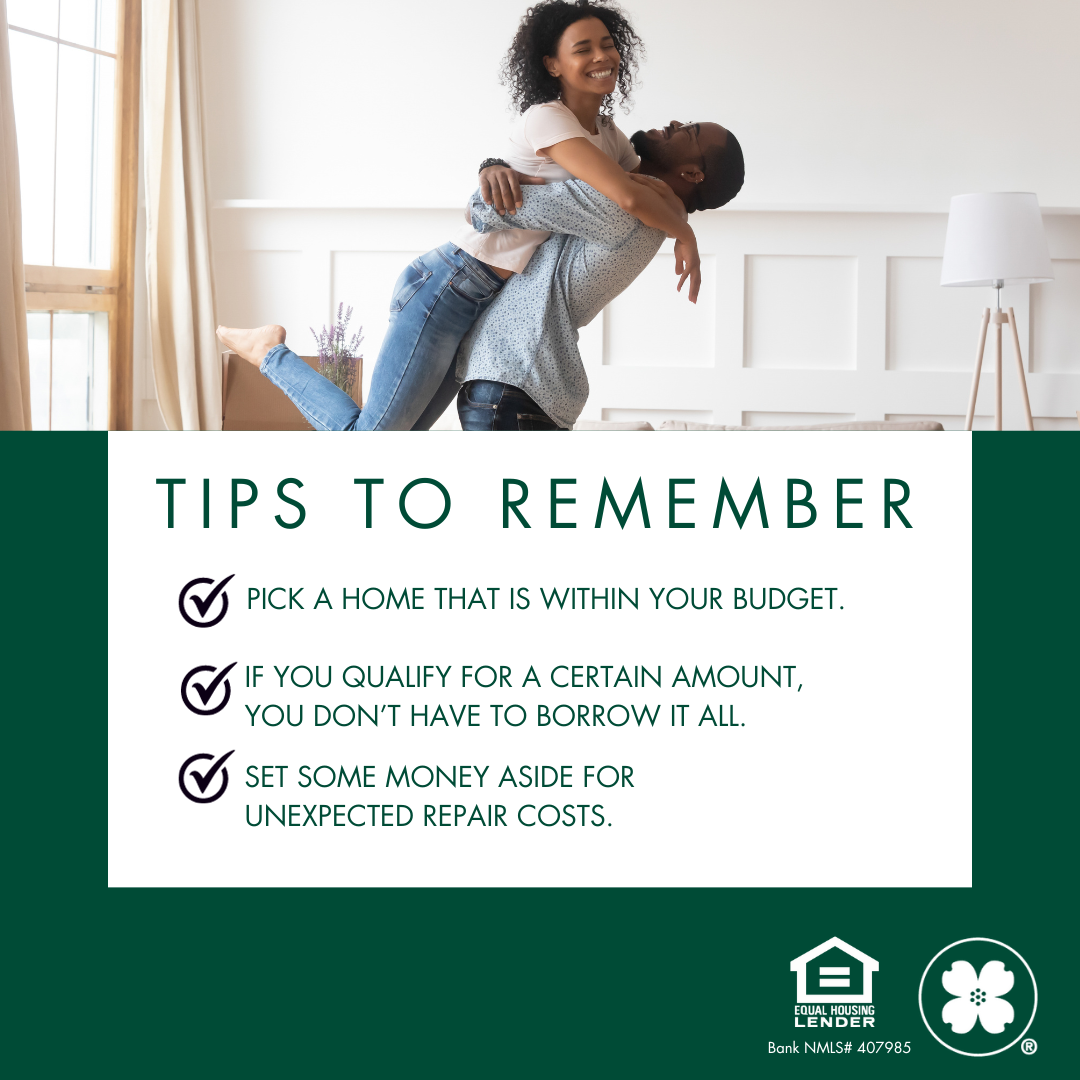 What does a mortgage payment include?
A monthly mortgage payment covers two primary components:
The Principal: The principal is the portion dedicated to repaying the loan itself.
The Interest: The interest represents the amount paid on the loan each month.
Additionally, the payment includes escrow for real estate taxes, collected monthly and paid annually. Same goes for homeowners insurance, which is also escrow, collected monthly and paid annually. If required, private mortgage insurance (PMI) is another element. PMI safeguards the lender and is a necessary expense for those purchasing a home with less than a 20% down payment.
Consult your tax advisor
What are the different interest rate programs?
If you're a first-time homebuyer you might be eligible for various interest rate programs.
The USDA Rural Development Program: This program offers 100% financing for those purchasing in rural areas.
US Federal Housing Administration (FHA): An FHA loan requires a lower credit score and a minimal down payment.
Make sure to talk with a loan officer to see which programs you are eligible for and what best fits your needs.
Remember, when you're buying your first home, it's important to pick something that fits your budget. Just because you qualify for a certain amount doesn't mean you have to borrow it all. Borrowing too much could cause unexpected money worries. It's also important to have some extra money set aside for unexpected repair costs like fixing your water heater or roof. When you're ready, stop by any Central Bank location to meet with a loan officer. You can also download the 'You're Home App' to make your mortgage experience smooth and easy! Happy house hunting!