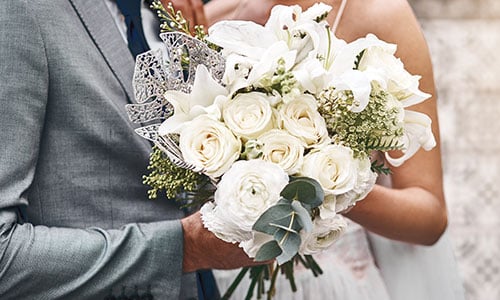 A wedding is an expensive celebration that requires planning and budgeting. The average cost of a U.S. wedding is between $29K-$31K, not including the honeymoon! [1] Use these tips to plan your dream wedding, without spending a fortune!
Use a Budget

Although you may not think you're going to overspend, using a budget can help keep your spending on track. Tally up your savings, maintain a spreadsheet for all costs, and don't go over your budget during the planning process. Remember to leave some room in your budget for any unexpected costs.

Ask for monetary gifts

Before you decide to register at multiple stores for wedding gifts, ask your guests for a monetary gift that you both can put towards your honeymoon or a future home. These gifts help alleviate costs, and guests will understand the need for a little extra financial help as newlyweds. You can also create a honeymoon registry, where guests can have the option to purchase a car rental, guided tour or tickets to a show. This is a more personalized way to save money on honeymoon experiences.

Rent your dress

Consider renting a wedding dress for your celebration. After all, why spend so much money on dress you'll wear once? Also, think about renting your rehearsal dinner dress, as well. Take lots of photos in your gown and then return it! This alleviates major fashion costs and can really help keep your budget on track.

Stick with the same location

The wedding venue can make up a large portion of wedding expenses. To save costs, get married at a free or less expensive venue like a church, park or on family property. Having your wedding and reception in the same location can minimize venue costs, and help avoid transportation costs for you and your guests.

Skip on wedding favors

Instead of spending money on wedding favors that guests have little use for, put that money back into the wedding. Creating an experience at your wedding is more important than sending your guests home with a small present.

DIY Decorations

Bond with your bachelorette party and make your decorations together. You can DIY your flower arrangements and create other fun photo-opportunity moments without spending too much. You can also ask any storeowners if they are willing to donate their display decorations to your wedding. If you have a wedding planner, consider asking about ideas of how to get your decorations for cheaper.

Food and drinks

Avoid the costs involved with a sit-down meal and opt for a buffet-style dinner. This is usually a much cheaper option and allows for more flexibility on the menu. To avoid dinner completely, pick out heavier appetizers instead of offering a traditional dinner. Bar costs can be one of the more expensive costs from your wedding. Consider making your reception BYOB to avoid those expenses.

Create your own invitations

There are so many options online to create a beautiful invitation, without the high costs! With the help of your bridal party, create the invitation and enjoy some bachelorette bonding.

Setting a date

Consider getting married in non-peak wedding months. Peak wedding season is usually from May through October - the months from November to April are generally considered to be off-season. Book your date outside of those peak wedding months in order to save money on your ceremony. Also, avoid scheduling your ceremony on a Saturday – as they are the most sought-after ceremony day.

Ditch the DJ

Instead of spending money on a DJ, get your own stereo system and play a pre-made playlist for hours of music and dancing. Choose your own songs and have a guest take requests throughout the night.
With the help of these tips, you can keep your wedding spending under wraps. Remember to budget your money, don't overspend and, most importantly, enjoy the celebration!
Source:
[1]. Average Cost of a Wedding 2020, Weddingstats.org